2011 Scion tC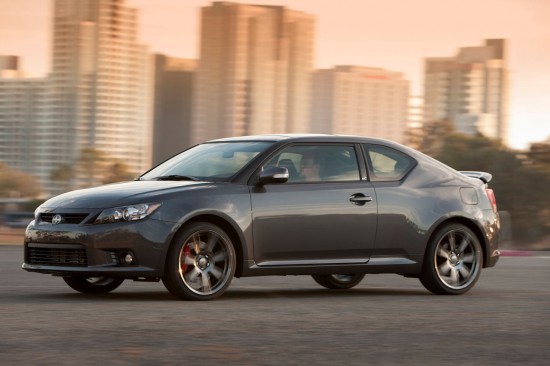 28 Year Old Males Rejoice! The Cool Scion Just Got Better
     Graphic artists, computer programmers and aspiring music industry professionals turn down your iPods and pay attention. Scion has some big news for you and your spiky haired twenty-something friends. The handsome tC coupe that debuted in 2004 and has since brought Scion more than 40% of its sales is finally getting a well deserved redesign that focuses on improved fuel efficiency, overall refinement and, here's where we get interested, increased performance. Scion recently invited us to a college campus teeming with its target buyers to get some seat time in the vehicle that officials hope will rejuvenate the brand's stalled sales and lead the company into a new dimension of success.
     We have to admit that Scion got off to a bad start around our office. The odd xA and even odder xB didn't exactly send our editors screaming recommendations from the rooftop. Fortunately, the more conventional tC debuted looking a bit to our eyes like a poor man's Infiniti G35 and we henceforth referred to it around here as "The Cool Scion".
     In the more than six years since it hit the market a few competitors have arrived, most notably the Kia Forte Koup, but Scion remains unique in offering only one trim level (in automatic or manual transmission form) from the factory. An extensive complement of dealer-installed accessories allows owners to customize their vehicle however they see fit, whether that is cosmetic changes, audio upgrades or performance oriented bolt-ons. Scion says this business model allows them to offer a no-haggle pricing policy that customers like. What you see on the sticker is what you pay. The average Scion receives $600 in accessories and with the tC we were relieved to discover most are of the performance variety.
     Scion worked hard to turn the new tC's performance up a notch and started by including a larger 2.5-liter I4 that produces 180 hp and 173 lb-ft of torque, a noticeable 19 more horses than before. While the engine doesn't yet feature direct injection, when paired with either the 6-speed manual or 6-speed automatic (replacing the ancient 4-speed) the tC returns 23 mpg city and 31 mpg highway. That's up as much as four miles per gallon highway over the 2010 model. We drove an automatic version and found acceleration comparable to the last Kia Forte Koup we sampled. Scion claims 60 mph in 8.3 seconds for the self-shifter and a substantially quicker 7.6 second run for manual transmission cars. Executives expect about 30% of tC buyers to select the do-it-yourself gearbox.
     The standard disc brakes have been significantly upgraded to improve braking performance and better matchup with the competition. Scion notes the rear rotors on the new model are now larger than the front discs were on the first generation coupe! All tCs feature standard 18" wheels with attractive 19" designs available in the accessory catalog.
     Scion says the average buyer does 70% of their music listening in their car so a great stereo is a must in this segment and executives are proud of the sound system options they've made available. The standard unit borrows components from Lexus and features 8 speakers and 300 watts but fancier head units, including a one with navigation, are available.
     During our brief drive we noticed the newly emphasized sporty nature of the tC thanks to great seats with aggressive bolstering and a racy flat-bottomed steering wheel that makes you feel like you're driving something a little more special than the window sticker would suggest. All models feature a two panel sunroof that still left plenty of headroom for my six foot frame, and we were pleasantly surprised to discover that the rear seatbacks recline up to 10 degrees so passengers don't have to sit bolt upright like in typical coupes. Scion has tuned the suspension on the stiff side but we'd need more seat time to determine if they've gone too far. Throttle tip-in is aggressive but it helps make the automatic feel quicker off the line than it really is.
     We're happy to report the upgraded brakes return good pedal feel and are responsive throughout modulation. Scion could spend a few more dollars on sound deadening since my passenger and I agreed the road noise was a bit intrusive, but that would add to the Scion's weight, which is already a couple hundred pounds more than the comparable Forte Koup. The interior materials, especially the hard plastic on the doors, are also nothing to write home about. In fact, with the exception of the steering wheel, we'd say Kia has Scion beat in this regard.
     Our time behind the wheel was too brief to draw many conclusions, that'll have to wait for a full fledged comparison test, but we do know there has been a lot of improvement jammed into our favorite Scion and it is once again ready to draw new customers to the Toyota family. An astonishing 71% of Scion buyers are new incremental sales to the company. That lone statistic should answer the question of Scion's success during its brief existence. After all, without a brand custom tailored to Generation Y what would your average Scion customer drive off a Toyota lot: a Corolla? We don't think so.
     The 2011 Scion tC goes on sale October 1st starting at $18,275 for the manual transmission or $19,275 for the automatic. Both prices exclude delivery fees.  
Photos courtesy of Scion