BMW 6 Series Coupe Concept (Design Critique)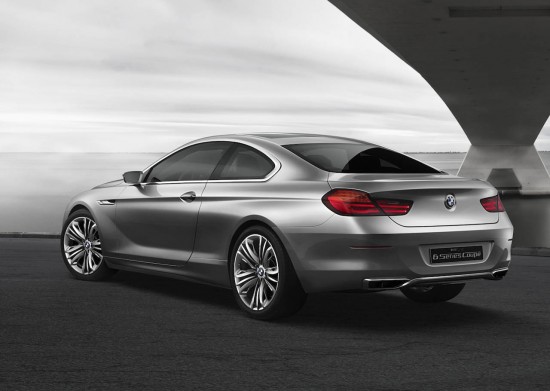 There was little doubt that as BMW finished out the millennium with updated 3 and 5 series lineups, that the Bavarian automaker's design language was beginning to look a bit stale. Rather than introduce yet another attractively conservative redesign, the 2002 7-series turned BMW's design language from cautiously good looking to garishly daring. The revived 2003 6-series coupe followed closely to the 7's bold new themes. 
      While the car turned heads and found its share of followers (and more importantly, buyers), many were hoping for something a bit more traditionally beautiful the next time around. And here, with the 6-series concept, BMW's 2010 Paris Auto Show stunner successfully delivers.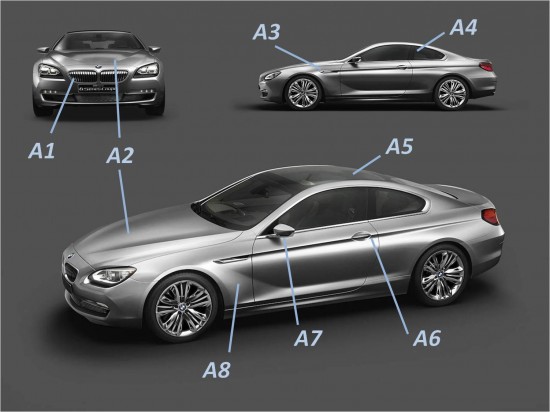 A1 – Twin kidney grille has been stretched with each passing generation to the point one wonders why it is considered kidney-shaped anymore. But have no fear, Pontiac and Oldsmobile have both been laid to rest, so BMW has the twin grille theme to itself these days.
A2 – Hood sculpting is so organically complex it leaves an entirely different impression from head on than from the front ¾ view. The overall result gives an impression of tension, as if the car is stretching forward; a difficult achievement considering the car's rearward biased cabin.
A3 – Though BMWs are hardly followers in the 'adopt a side vent' game, perhaps BMW could have bucked the trend.
A4 – Side window glass successfully mimics predecessors dating back to the original '6' from 1976.
A5 – Glass roof is attractive, though inevitably adds mass up high. One can only speculate whether it will see production.
A6 – Side sculpting continues one of BMW's better design themes. Here, a sharp line delicately bisects the door handle.
A7 – Side view mirror mount is masterfully detailed and original, holding the mirror shroud as if on a metal pedestal. We are unlikely to see this styling whimsy make it to production.
A8 – This bulge behind the front wheel opening is perhaps the only unexpected and questionably executed feature on this gorgeous coupe.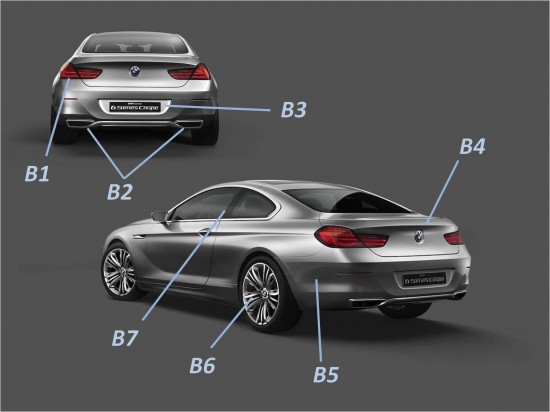 B1– L-shaped tail lights remind one of the BMW's E34 5-series from the 1990s. These are cleverly integrated with the trailing edge of the 'Bangle' bustle.
B2 – In what seems to be an industry trend, the exhaust pipes are delicately slender.
B3 – License plate recess is wide enough for a euro-plate. Hopefully BMW will narrow this to an appropriate width for North America.
B4 – It is hard to determine if BMW finally figured out how to make the toned down 'Bangle' bustle look right, or if we are so used to the much copied deck-lid treatment that it no longer looks like a mistake.
B5 – Rear overhang is pleasantly and unexpectedly long for a modern car.
B6 – Wheels are a bit overwrought.
B7 – Alas, this car has a hidden b-pillar with fixed rear side glass unlike the beautiful hardtop 8-series coupe.