2010 Mercedes-Benz C350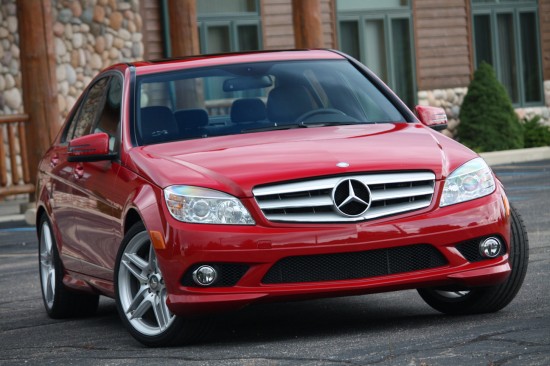 Down In Power, But Still A Contender For The Sports Sedan Crown
     In case you haven't noticed, horsepower numbers are ballooning like Al Gore after public office and the new threshold for contenders in the sports sedan race is something north of 300 horses. Competitors from Acura, BMW, Cadillac, Infiniti and Lexus all offer up power ratings starting with a three, and even though Audi's standard A4 can't play with the big boys you can step up to the supercharged S4, which is available for about a grand more than the C350 that is the subject of this review and could certainly be considered a competitor. The problem for Mercedes is that their class entrant only puts out 268 hp, so even before delivery we were preparing to treat it as an entry-level luxury car instead of a true sports sedan. But when our baby Benz showed up wearing bright red paint, AMG wheels and cross-drilled brakes we knew the boys in Stuttgart weren't going to let a horsepower deficit keep them on the bench.
     There's no denying this car looks the part. 2010 Sport models are built upon the already well-proportioned stance of the C-Class and feature a number of visual enhancements to convey the car's aggressive demeanor. Sport models lose the stand-up hood ornament in favor of a huge three-pointed star in the grille, which did not win any points with the traditionalists on staff but is more in line with the aggressive look Mercedes is going for. Optional 18" double-spoke AMG-designed wheels showcase the cross-drilled front brake rotors and an aggressive redesign of the front valance, rocker panels and rear bumper complete with heavily chromed dual exhaust tips make for a truly sexy sedan. Even Design Editor Gernand, our resident red hater, admitted the car looks great in its particularly hard-hitting Mars Red finish.
     Inside we weren't quite as enthusiastic thanks mostly to average-at-best materials and a dated center stack design that caused editors to exhaust every synonym known to man for the word bland. Examples of lackluster materials include hard armrests, cheap feeling dash materials and a leather wrapped steering wheel that somehow manages to feel like textured plastic. All those distractions are especially disappointing considering the standout aspects of the cabin like the classy gauge cluster, aluminum pedals and a shifter that slides through its gate with the well-oiled precision of something Winchester would produce. Mercedes includes a bit of theater by hiding the 7" nav screen under a swiveling lid that motors into view whenever the radio or nav system is called into service. The now-familiar COMAND system is onboard complete with rotary knob controller just aft of the gear selector. This system is in need of a refresh but even then we can't see it being easier to use than a well designed touch-screen setup. There's a reason modern cell phones don't have a big rotating knob on them.
     We're glad Mercedes' typically great climate controls are present and accounted for. The front seats are a bit hard and the flat bottom cushion makes long stints a bit numbing but they do have good back bolstering for corner carving. Some driver's found the pedals were offset to the right too far, which caused their right foot to rub against the transmission tunnel. Center console storage is very small but the trunk offers 12.4 cubic feet, about average for this class. The standard 8-speaker sound system offered average audio quality but all the latest hookups and Sirius satellite radio. So it's a mixed bag when it comes to materials quality but a straight-up letdown in design terms. Sure everything is assembled solidly with tight fits and perfect alignments, but next to the artful cabin of a CTS or G37 the C350 is a coma-inducing black hole.
     Despite that criticism there's nothing boring about actually driving the C350. It starts with a suspension tuned to be firm but still compliant over the rough stuff which results in downright nimble handling, acceptable ride quality and commendably flat cornering through even the tightest switchbacks. The steering is direct with consistent boost and next to no slop on-center. The aggressive Continental ContiSport Contact 3 tires deserve part of the praise for quick turn-in. The aforementioned brakes measure 13.4" up front and deliver strong stopping power and an appropriately responsive pedal.
     We've already highlighted the C350's power deficit compared to the competition but the 3.5-liter remains a willing partner that revs easily. It produces 258 lb-ft of torque from 2,400-5,000 rpm making for a stout mid-range that is very accessible in everyday driving. EPA ratings of 17 mpg city and 25 mpg highway would certainly be improved with the addition of direct injection, which might just help get horsepower over that magic 300 threshold too. We'd like a bit more engine and exhaust noise in our sports sedan; perhaps the AMG team could provide some assistance in this area.
     Our favorite part of the drivetrain is the advanced 7-speed automatic transmission that is tuned to provide highly responsive downshifts in automatic mode—something few transmissions can brag of. Slight pressure on the throttle is all that's needed to summon a couple gear downshift and get down to business. We aren't fans of manual gates that require side to side tapping like this unit so when we felt like taking things into our own hands we used the steering wheel paddles. But for the most part we were so pleased with the tuning of the transmission when in Sport mode that we usually just let the computer handle things.
     We'll admit that we didn't think the C350 would impress us considering its rank in the horsepower wars. What we discovered is a car that makes the most of its power rating thanks to a flat torque curve and a lively transmission. The C350's main handicap turns out to be its insipid interior that could stand on its own for the reasonable as-tested price of$45,875 but falls to the back of the pack against any one of its competitors. If your sport sedan must wear a three-pointed star the C350 will provide plenty of driver satisfaction, dynamic styling and that all-important cachet, but this is an incredibly competitive segment that will reward the discriminating buyer with even more power and a better interior elsewhere.
The Good:
Looks like a sport sedan should, sport-tuned 7-speed automatic, Mercedes cachet for $45k, great brakes, responsive steering.
The Bad:
Hard seats, some disappointing interior details, manual shifts could be quicker, no exhaust note to reward the driving enthusiast.
The Verdict:
Certainly a contender, but with direct injection and a reworked interior the C350 could claim the sport sedan crown.
Photos by Jason Muxlow