2010 Kia Forte Koup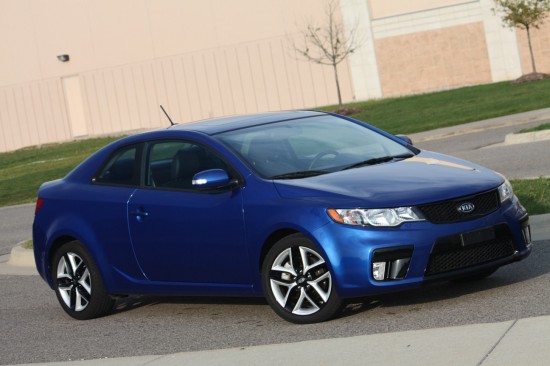 Kia Can't Spell, But They Can Build An Impressive Sport Coupe
     Kia is known for a lot of things, but building beautiful cars isn't one of them. As irrefutable evidence we submit the now (mercifully) departed Amanti. That four-eyed rolling catastrophe had a face only a blind mother could love. The good news is the era of the homely Kia is now behind us. As irrefutable evidence we submit the new-for-2010 Forte Coupe, err, Koup. This handsome little sport coupe borrows all the right stuff from clean, contemporary design leader Audi and comes loaded for $19,195 as-tested. Until very recently there wasn't much in the under-$20k class worth getting excited about if you view driving as more than a required chore to get from Point A to Point B. After a week with the sporty SX model Koup, we think people like us might have a new option in the budget performance class.
     We tipped our cards at the beginning of this review but we really do think the 2-door Forte (there is also a sedan) stylistically outclasses most of its competition in this price range. It probably didn't hurt that we had a similarly priced Nissan Versa in the AT Garage at the same time, which somehow manages to make even a Ford Transit Connect look sporty. If we had to recommend improvements we'd ask Kia to drop the black plastic that makes up a bit more of the rear bumper than we'd like. When will designers learn that black plastic is never the way to go? Losing the painted spokes on the 17" wheels would be wise too since we think it visually reduces the size of the wheels. Other than that this really is a clean design with the classic long hood, short deck proportions you just won't find elsewhere for this price.
     A good sport coupe requires more than just an eye-pleasing body. It must reward with a driving experience that is a step above the class average. The Forte does just that thanks mostly to a 5-speed automatic transmission aggressively geared to make the most of the 2.4-liter I4's 173 hp and 168 lb-ft of torque. In this era of indulgent horsepower those numbers don't sound like a lot, but thanks to the SX model's specific gearing and the uncommonly low curb weight of 2,875 pounds (about 200 lbs less than the latest Scion tC), the Koup moves off the line with enough verve to put a smile on the driver's face. We probably would have preferred to save a grand and stick with the standard 6-speed manual, but as economy class automatics go, this one was a cooperative partner when hustling down country roads.
     And we spent a lot of time doing just that because of the SX's excellent sport-tuned suspension. On paper you would expect the little Kia to be hampered by its bargain basement Torsion Beam rear suspension but the MacPherson struts and anti-roll bar upfront are tuned for flat cornering and the ride only suffers on disheveled concrete freeways. The rest of the time you're rewarded with a buttoned-down chassis that offers good high-speed stability and invigorating backroad dynamics. The power steering has some weight to it although little actual feedback makes it back through to the driver. At least turn-in is quick and the 17" Goodyear's provide competent corner holding. Koup drivers are well-equipped when the need arises to drop anchor thanks to sizeable 11.8-inch front discs and 10.3-inch rear discs. Even though this is one of Kia's cheaper offerings, engineers didn't skimp on electronic safety systems. Brake Assist, Electronic Brake-Force Distribution, Stability Control and Traction Control are all squarely in the standard features column.
     Actually, pretty much everything is in the standard equipment column on SX Koups. We were living the good life with satellite radio, Bluetooth, USB and Aux audio inputs, tilt and telescoping steering wheel, power driver's seat, aluminum pedals and for reasons we must already be too old to understand, lights around the door speakers complete with a dedicated control panel left of the steering wheel. The interior design is fairly restrained by modern standards with red instrument lighting and red stitching on the leather seats, steering wheel and door inserts as the only flourishes outside the ridiculous flashing speaker lights. The seats are actually among the best in the class with supportive bolsters but comfortable cushions for the long haul. The trunk measures 12.6 cubic feet, but the back seats fold down to accept oversize objects in a pinch. We have no complaints to log about the audio or HVAC control layout since everything is handled masterfully. A number of automakers could learn a few things from this cabin. That statement should tell you something about how far Kia has come.
     We didn't have to offer any excuses for this vehicle before deciding that Kia has built an impressive sport coupe on their first try. The styling is mature, performance is comfortably above the norm and the interior is about as good as you'll find at $18k. The EPA ratings of 23 mpg city and 31 mpg highway plus the peace of mind of a 10 year warranty are just bonuses that will keep buyers happy throughout the ownership experience.
The Good:
Unusually handsome coupe for this price range, SX model includes almost everything as standard equipment, sporty chassis and eager automatic transmission.
The Bad:
Ride can be a bit choppy on broken concrete, road and engine noise are higher than we'd like, steering lacks feedback, silver painted plastic on the steering wheel looks cheap and scratches easily.
The Verdict:
A competent sport coupe that's loaded with value and style.
Photos by Jason Muxlow