2011 Honda Accord Coupe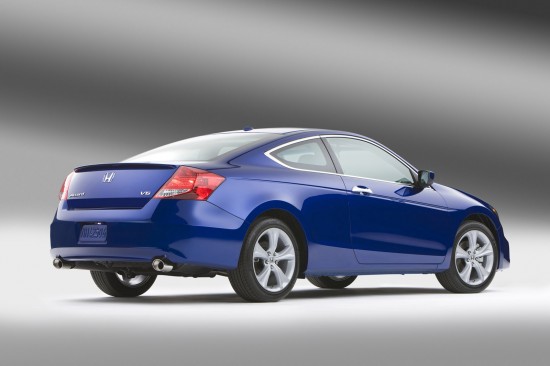 EX-L Model Shows Its Athletic Prowess
      People often talk about the Honda Accord and Toyota Camry as if they're interchangeable, like two different versions of vanilla. They're not the same, though. They're both from Japan; they both have great reputations; they're both among the most popular cars in the world. But the similarities end there.
      While the Camry is quiet and comfortable, the Accord is more of a driver's car with a firm suspension, precise steering and linear brakes. Nowhere is this more apparent than in the car I drove this week, an Accord Coupe with a V6 engine and manual transmission. Now, a shift-it-yourself transmission makes no sense in a Camry. That would be akin to putting big mud tires on grandma's luxury car. In the Accord, though, it makes perfect sense, showing off Honda's sporty suspension and flaunting its muscles with a sublime snickety-snick feel.
      This six-speed manual is only available in a special version of the Accord Coupe called the EX-L V-6. It comes with a 3.5-liter engine that belts out 271 horsepower, making this the most fun Accord of them all. The end result is a very sporty car, but not a sports coupe in the pure sense. It still sends power to the front wheels, which is blasphemous for people who worship at the altar of BMW, but it is quick and pretty.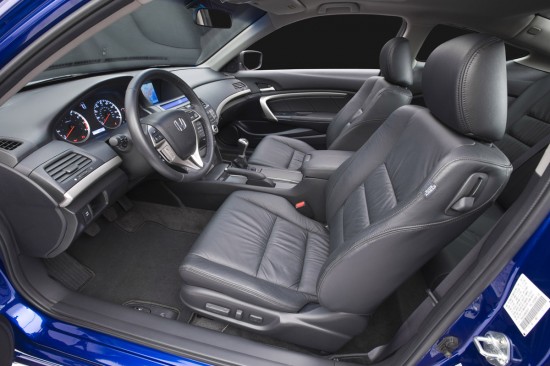 Styling is a big reason for the Accord Coupe's existence. It has a dramatically different visual personality from the more mundane Accord Sedan, with two long doors and a raked-back roofline that make it look sexier than its familiar name would suggest.
      Honda made other changes to set it apart, too. The front grille is bigger and bolder; the front bumper has a new shape; the brake lights have a classier appearance; and the V-6 gets a good-looking wheel design to make it look more unique. Pricing starts at $22,780 for the base coupe with an efficient, 190-horsepower four-cylinder engine. The EX-L V-6 version starts at $29,730, or $31,730 with a navigation system.
      All in all, there aren't many surprises to this car. You get exactly what you're expecting: a well-engineered Japanese car with two doors and a sleek body. It feels solid, as you'd expect in any Accord, and it drives with a vigorous spirit.
      On the flip side, the Accord name doesn't scream excitement. You can find more attention-getting two-door cars like the Dodge Challenger or Chevy Camaro for less money. Even a V6 Mustang delivers far more visceral thrills than the Accord. The Accord Coupe, though, has a sophistication about it that no muscle car can match. It's more grown up compared to the juvenile Dodges, Chevys and Fords, and it would look perfectly at home driving to a mall, the office or the symphony.
      But it still knows how to have fun.