2010 Toyota Tundra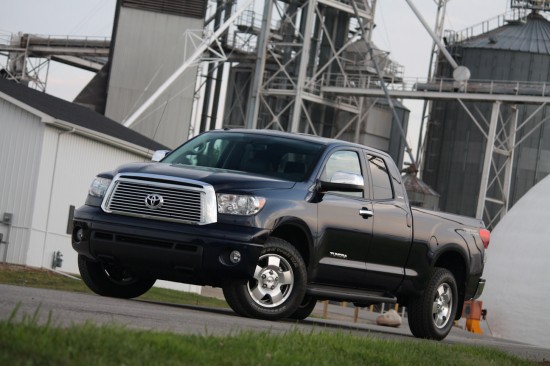 Big Ol' Honking Pickup Truck
     We tried to lead with something more insightful, but that is pretty much the best way to describe the third-generation Toyota Tundra. It's big. Very big. Every aspect of it seems purposely designed to out-scale the domestic competition once and for all. In fact, I don't think the pictures do it justice (and I took the pictures!) It almost has the look and feel of a three-quarter-ton Ford Super Duty. It's as if Toyota overshot the half-ton class and landed in a five-eighths-ton class of one. Clearly this Tundra makes up for Toyota's last two half-hearted foray's into the full-size pickup realm with girth to spare. But there is more to being a successful pickup truck than size. Has Toyota done their homework?
     Obvious styling points first: size. It's big, but so is every full-size truck out there. Probably bigger than they need to be. If fingers must be pointed, look in the direction of the Dodge camp. The Ram started the bigger-than-you battle back in '94. But nonetheless this Tundra does what neither of its predecessors have done–command some presence on the road. Overall the truck is fairly sharp with just a few features out of place. The headlights and foglights fit the bill, the fender stampings are substantial and muscular, but the taillights seem to be bulging and obnoxious for the sake of it. Our particular model had an affordable TRD package that specs a unique grille and large beefy aftermarket-looking wheels. We approve.
     Clambering up inside (and it is a hike, even for six-footers) we find a medley of atrociousness. We're going to just go ahead and suggest we toss this one back to the drawing board. We weren't fans of the Tundra interior when it debuted in 2007, and with a few years and a lot of mileage on the design, it hasn't improved. Look around and you'll conclude the interior designer had a problem with commitment. The Tundra cabin features every color, texture and material in the Toyota interiors catalog. In front of the driver we have an organic shaped gray painted panel featuring sunken gauges inspired by Tuscan Raider masks. The center stack is glossy piano black and features four large silver plastic knobs which match nothing else in the cabin and shoot across the midline away from the driver, forcing a stretch from shorter operators. The passenger gets to look at a very squared off, ill-fitting airbag cover and a large glove box door. The driver airbag is a completely different color from the steering wheel, which happens to be wrapped in leather that feels suspiciously like urethane. To top it all off Toyota added (very) faux wood trim that we suspect was harvested out of scrapped 1984 Buicks. The main HVAC and audio controls are found on the starboard side of the bridge, which made for a bit of a stretch for the six-footers (Dye and Gernand). I phoned in radio tuning requests to my passenger in an effort to keep 'er between the lines.
     On the positive side of things, redundant steering wheel controls pick up a bit of the slack the ergonomics team left on the floor. We also found the seats to be quite comfortable and the rear seat accommodations had a bit more leg room than we expected, considering this was the DoubleCab and not the full CrewMax. The massive center console provides ample storage and can even function as a hanging file folder repository for those who work out of their trucks. One will also note that Toyota has seen fit to label nearly all storage cubbies so as to inform you what the appropriate item to store there is. The cupholders are large, capable of holding down two 32oz Gatorade bottles. The cabin was fairly well hushed except during engine start-up, which featured a very loud breathy surge that sounded entirely appropriate for a ready-to-work-hard truck like this.
     But enough of this surface level stuff, how about the meat and potatoes? Our Tundra came equipped with the 310 hp and 327 lb-ft of torque 4.6-liter V8 engine coupled to a 6-speed automatic transmission. Equipped with the 4.10 rear differential (which includes a 9.5" ring gear) this truck is rated to tow 8,900-lbs. Unfortunately, we didn't get a chance to load up the bed or lash on a trailer to evaluate that performance, but we were never left wanting when we got on the throttle–thanks in part to the well-tuned transmission. First gear is aggressive and gets the big Tundra out of the hole in a hurry. The EPA gives the truck a 14 mpg city and 19 mpg highway rating, while we found the truck to be running mid-15s with us behind the wheel; certainly not the most economical mode of transportation if you aren't going to really use it as a truck. The real problem here comes in the form of the 2011 Ford F-150. That truck's base engine is now a 3.7-liter V6 that produces 302 hp and 278 lb-ft of torque. Yes, the Ford has mildly lower ratings and is only rated to haul a 6,100 lb trailer, but it's also EPA rated at 16 mpg city and 23 mpg highway in 2wd form.
     For a mere $70 Toyota will throw in the aforementioned TRD off-road package, which consisted of underbody skid plates, Bilstein shocks and the previously mentioned beef-cake 18" 5-spoke wheels and aggressive 275/85R18 BF Goodrich tires. However, those Bilstein shocks also contribute to a fairly stiff legged ride; one a bit stiffer than the last Z71 we had in the fleet. Regardless, this is arguably the best value off-road package on the market and hands down the best value package available on the Tundra, considering the DVD/Nav will run you $1,690. The brakes were solid and strong, if a little touchy on initial application. Editors commented that the Tundra's steering was slow and a bit lethargic, requiring far too much input for the amount of turning you got back.
      So the truck is big, looks good, drives well and it has the under-the-sheetmetal bits to get most any job done. But Toyota desperately needs to take this interior in for some plastic surgery and establish a single train of thought while moving materials quality up to the level Toyota is known for. Would I pluck down $41,780 for this beast of burden? Not with my own dollars. Not when a Bowtie truck will score me an interior trimmed better than my living room, or a Blue Oval truck equipped with a mere V6 (Ecoboost 3.5-liter) will tow 11,000 lbs. But for Camry, Corola and Sienna owners too timid to test the waters of domestic truckdom, this is your big ol' honking pickup truck. 
The Good:
Looks the part, lots of room inside, off-road package packs a value!
The Bad:
The interior design and material usage is well under Toyota standards, and the ergonomics suffer from poor decisions.
The Verdict:
A big truck with bold styling and a strong demeanor; but a dismal interior makes the Tundra hard to recommend when a domestic truck cleans up in all these areas.
Photos by Jason Muxlow