2011 Dodge Grand Caravan (Preview)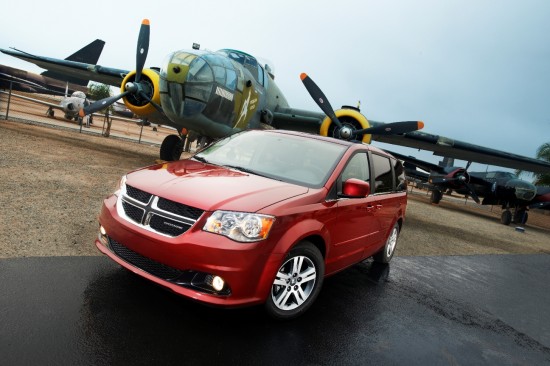 Well, that didn't take long. Less than 48 hours after nabbing some shots of a caravan of Grand Caravans out for a shakedown cruise, Dodge proliferated the cybernets with specs and glamor photos of its latest family hauler. Curiously, Dodge contracted a man (and only a man) and his surfboard for these photos. Sport van? Someone tried that one already. Man van?  
       Certainly seems to be leaning that way. Yet the press release states that a purse fits in the super center console no problem, so…what are they saying there?  Come to think of it, this is very likely the first minivan to have a fixed center console. Typically, such things have been reserved for SUVs and crossovers, as minivans are "family" vehicles and the perception is you need a pass-through to be able to get to the children in a hurry. Yeah, right.
      From the photos we have, it appears that Dodge again focused its efforts on the interior. The instrument panel looks to be mostly new (though they found it unnecessary to nix that silly shifter) with much better looking materials all around. Bolder colors and ambient lighting will certainly go a long ways towards attracting the more rough-and-tumble gender. We're told the touchy feely aspects and ergonomics are improved, but we'll just have to get some seat time to find out. Larger, easier to use one-handed operation Stow-N-Go seating is apparently on the menu as well.
      Under the hood is none other than the Pentastar 3.6L V6. Like the other front-wheel drive Chrysler applications, it is rated at 283-hp and 260 lb-ft of torque and is mated to a six speed automatic transmission. There is even a driver selectable Fuel Economizer Mode that remaps the transmission schedule for improved economy at the flip of a switch. Like the Avenger, the Grand Caravan receives a major suspension overhaul for improved road hugging performance (did I just say that about a minivan?). Visual exterior enhancements are limited to the incorporation of the split crosshair grille, a new fascia and lighting elements.
      Dodge is certainly trying to broaden the appeal of the minivan by reaching out with more "manly" appointments. Time will tell if this is successful. Will this be the minivan that Design Editor Gernand finally warms up to? Not likely. But I pass out the review assignments. Perhaps a week of piloting the Man Van will change his perspective. Maybe we'll even get Dodge to throw in a surfboard!
Photos courtesy of Chrysler Group LLC.