2011 Chevrolet Corvette Grand Sport Convertible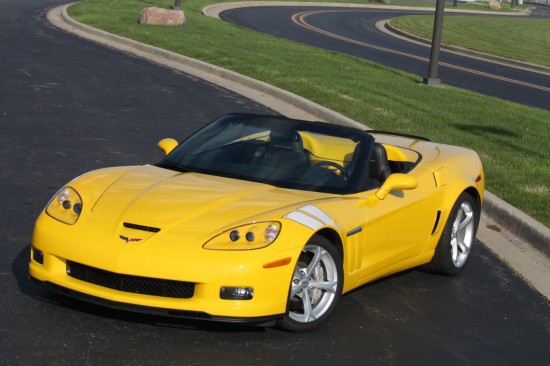 Chevrolet Packages Unbridled Spirit in a Corvette for the Country Club Crowd
      Appropriately built in Kentucky, a state whose license plates declare its 'unbridled spirit', the legacy of the Corvette is long, rich and detailed. A late addition to the 6th generation (C6) Corvette, the Grand Sport model finally allows the Corvette buyer to upgrade to the suspension and brakes available on the Z06 model without being limited to a manual transmission and fixed roof combination. The first question many ask is why bother offering a Corvette with an automatic? The reality is that many Corvette buyers are retired gentlemen who have waited much of their long lives to buy a Corvette. To them it is an image car that lets them relive their childhood dreams. Many of these customers have spent most of their driving years piloting the family car with an automatic and have no desire to relearn how to shift for themselves. They simply want something fast and fun combined with the appeal of the Corvette name. If it weren't for these buyers, GM likely wouldn't be able to draw enough volume to offer a Corvette at all, much less one with a genuine manual transmission.
      We drove the country-club version of the Grand Sport: a head turning yellow convertible with the optional 6-speed paddle shift automatic. Grand Sport models are differentiated from other Corvette models by a 'fish gill' set of side vents topped by a chrome badge. Our model was equipped with the Grand Sport Heritage Package that included two-tone leather seats, embroidered logos in the head rests, and hash-marks on both fenders. This is not the car to drive if one wants to go unnoticed. Or slowly.
      The Grand Sport achieves highway speeds effortlessly due to 430 hp and 424 lb-ft of torque from its LS3 V8. If one wants to change lanes on the interstate, all one needs to do is find an opening and take it. While a far cry from the 505 hp in the Z06, the acceleration is both exhilarating and satisfying, and the resulting exhaust note is a knee-weakening experience for enthusiasts. Stopping is equally impressive. The 6-piston front and 4-piston rear brake calipers stop the car in astonishing fashion. Bringing the Corvette to a sudden and complete stop from a full 70 mph caused my passenger to declare 'you just detached my retinas!' It seems impossible that a car can so abruptly halt its forward momentum without drama. The pedal feel is firm, responsive, and linear. The automatic transmission was appropriately responsive to downshifts in automatic mode. Sadly, the transmission is best left in auto mode as the manual shifts are slow to execute. In addition, Chevrolet really needs to adopt the industry standard of pulling the right paddle for upshifts and the left paddle for downshifts. Steering is delightfully direct and is weighted well. One curious feature of the head's up display allows the driver to monitor the car's cornering ability through an easily read g-meter.
      The EPA rates the fuel economy of this beast with a 15/25 mpg city/highway rating. We managed to achieve a real-world 24 mpg reading on a rain drenched 160-mile midnight run to the airport. We consider that impressive considering the grunt this car provides. The mileage dropped as we ventured into more enthusiastic settings, but remained respectably close to the big 2-0 mark; impressive for so much power and displacement.
      The interior has long been a complaint of many auto critics. Our vehicle was optioned with the 4LT premium equipment group (a whopping $9,700) which included (among a long list of other features) a leather wrapped interior. This dressed the interior up significantly but failed to improve the cursed faux carbon fiber center stack finish. For a car with a $58,600 starting price, shouldn't quality materials like this be standard? More than one editor felt the seats were unacceptable in a car with such sporting ability, but might be a result of GM realizing that many Corvette buyers are a bit 'wide' in their retired stage of life. Hopefully GM will use the better judgment they have demonstrated in other premium models, such as the Recaro seats offered in the Cadillac CTS-V, when the time comes to spec seats for the C7.
      While we are discussing quality, this Corvette featured astonishing large and inconsistent panel gaps. Ever since the original 1953 model, the Corvette has been dressed in plastic body panels. With all those years of experience, combined with lessons learned from the ill-fated APV van and Saturn experiments, it stands to reason that GM should be a leader at precision fit plastic body panels. Our test car suggests otherwise. In stark contrast, the convertible top (a power operated unit included in the 4LT option group) proved so quiet that my pre-dawn carpool passenger, upon arriving at our destination in the daylight, was shocked to discover that he had been riding shot-gun in a cloth top convertible. With the top stowed there still appears to be enough room for that vital set of golf clubs.
      While this C6 Corvette was gobs of fun, we can't help being annoyed by the panel gaps, poorly shifting transmission in manual-mode and the interior. This, combined with an as-tested price of $75,805, had us asking what is the point? The Z06 starts at $74,305 and nets you 505 hp and 470 lb-ft of torque along with all the performance features of our Grand Sport test car. The shortcomings of the current Grand Sport Corvette are simple enough that we expect the 'new GM' to deliver a 7th generation car that builds on the successful execution of the best it has to offer. If you are anything other than the retired casual Corvette admirer in need of something flashy to haul around golf-clubs, hold onto your hard earned enthusiast dollars and wait for the C7. Chevrolet's recent track record suggests it will be worth the wait.
The Good:
Great power, great brakes, great handling.
The Bad:
Clumsy transmission in manual-mode, large panel gaps, Z06 price, interior that lags behind the best of GM and the competition.
The Verdict:
With General Motors' recent track record we look forward to the impending C7 with unbridled enthusiasm.
Photos by Jason Muxlow