2011 Jaguar XJL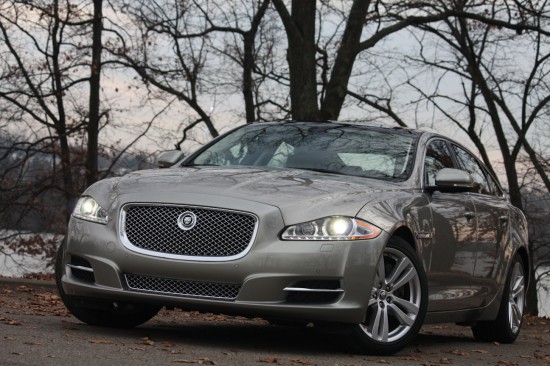 More Than Just A Pretty Face
     The XJ hasn't been a contender for years. Even when the last generation stepped forward with advanced aluminum intensive construction for the 2004 model year, a ho-hum base engine, tired styling and uninspired interior guaranteed it would never light up the radar of discriminating luxury sedan buyers. The XJ's disastrous reception forced Jaguar management to sever its retro stranglehold and turn to maestro of design Ian Callum to develop a modern design language, which we first saw on the svelte, but still traditional, XF. For the flagship XJ Callum pushes the envelope even further and blesses the big cat with a distinctive presence that we think will finally draw curious consumers to Jaguar showrooms. After a week with a long-wheelbase XJ we're confident they're going to like what they find.
     The new XJ has people talking about its design and that's a success that the previous model could never claim. We will leave you to decide what you will about Jaguar's new direction, but judging from chit chat around the AT water cooler we're sold on everything but the mandatory black D-pillar. Apparently Callum and crew believe this panel gives the illusion of a wrap around rear window and a resultant "floating" roof. And in the controlled lighting of a design studio it very well might, but in the real world nobody is fooled and on any body color but black it only serves to interrupt the graceful arch of the avant-garde roofline. Why Jaguar won't at least offer the No Cost Option of a body color pillar is beyond us. In the meantime, the best option is to channel the spirit of Henry Ford on your order guide and spec black paint. That's about as analytical as we're going to get here, but if you want to go more in-depth on the XJ's new look feel free to check out our Design Editor's extensive critique.
     As good as the new XJ looks, we're more excited about the vastly improved engine lineup. The 5.0-liter direct-injection V8 can be supercharged all the way up to 510hp. We've driven that version in the mighty Range Rover and called it a gem, but we were curious to see if removing the forced induction would also remove the engine's edge. After the first mile we had our answer: most definitely not. The 385hp naturally aspirated mill charges to its 6,500-rpm power peak with the haste of a much smaller engine and rewards with one of the meatiest exhaust notes in the luxury sedan arena. The newly fortified base engine makes the XJ fully competitive with its rivals and returns 15 mpg in the city and 22 mpg on the highway.
     No doubt those results would improve if Jaguar would secure a seven or even eight speed automatic like other high-end sedans, but we hesitate to criticize this 6-speed since we've been singing its praises since our first encounter in a 2007 XK Coupe. It's smooth as grandma's iced tea when in Drive and responsive as any torque-converter automatic extant in manual mode; firing off rev-matched downshifts with a click of the steering-wheel-mounted paddles. Engineers have also developed an eager sport mode that can be selected by twisting the gimmicky JaguarDrive gear selector to the right. This programming will keep the engine closer to its power peak and downshift at the slightest hint of pressure on the accelerator. If you feel like taking the long way home Sport mode will make a willing partner.
     And with an interior as sumptuous as this latest Jaguar's, the long way home will become your default route in short order. The British know how to do upper crust luxury better than anybody and the wood trim in this cabin is featured like we've never seen before with wide swathes of Burl Walnut on the doors and a thin strip wrapping unbroken under the base of the windshield. It miraculously makes this much wood, which would normally look old school, seem fresh and modern. The rest of the interior is a smart blend of fine leather, abundant chrome detailing and an analog clock integrated with touch sensitive reading lamps, virtual gauges and an optional 20-speaker 1,200-watt Bowers & Wilkins sound system. It's as successful an integration of classic luxury and cutting edge technology as we've had the pleasure of evaluating. Jaguar should be commended for including a healthy dose of goodies as standard equipment, including a panoramic glass roof, navigation system, blind spot monitoring, heated and cooled front and rear seats, heated steering wheel, plus 20-way power front seats. If you can't get comfortable in this car, especially with 44-inches of rear legroom in our grandiose XJL model, there's no hope for you.
     We particularly like the possibilities that the 12.3" digital gauge cluster presents. A nice large gear indicator appears in manual shift mode and the red lighting accents are a neat touch when in Dynamic Mode, but we can foresee a day when you could select any number of virtually recreated gauges to suit your taste. About the only thing we can ask of Jaguar is to improve the tactile feel of its center console and steering wheel switchgear. It looks good enough, but actually pressing them returns a down-market click that sounds like breaking plastic. The Germans and Japanese still have the secret recipe in this regard. And we won't deny the sheer volume this $2,200 sound system is capable of, but for tonal accuracy it still lags the top systems from the competition. Simply put, the XJ's cabin is a masterpiece of artful craftsmanship and luxury class materials you won't want to leave.
     The good news is while you're in there you'll also be happy with the rest of your interactions with the XJ. The commendably direct steering has a light effort and syrupy refinement to it and the brake pedal is linear with adequate power from the 14-inch front discs. As expected, the ride is appropriately smooth for a Jaguar, but the true surprise is the XJ's sporting capability once the driver puts the car in Dynamic Mode. Holding the checkered flag button for a few seconds casts a menacing red glow on the digital gauges and the suspension buttons down a notch or three while the engine response sharpens and the Dynamic Stability Control threshold is raised to allow for a bit more fun before intervening. Thanks mostly to a low weight of 4,131 pounds (the all-aluminum A8L weighs in more than 300 pounds heavier) even the long-wheelbase XJ we sampled drives and responds like a much smaller car.
     If it sounds like we were smitten by the new $82,700 XJL that we tested, then we've achieved our goal with this review. Of course, we can't speak to long-term reliability. Maybe the fancy digital gauges will flash the blue screen of death and 19 of the 20 power adjustments on the driver's seat will stop working on the way home from the dealer. All we know is that we drove a (mostly) beautiful new Jaguar sedan that offers one of the world's most stunning interiors, eats up the back roads like few of its competitors dare and gives up nothing in the drivetrain department. Step outside your S-Class bubble and discover the reborn Jaguar.
The Good:
Daring interior and exterior design returns to the staid luxury sedan class, an engine that can power to 60 mph in 5.4 seconds and sound glorious doing it, plenty of stretch out room, athletic chassis, willing transmission.
The Bad:
Touchscreen nav system requires a firm poke and a second to respond, switchgear emits an unsatisfying click, mandatory black D-pillar.
The Verdict:
Jaguar is back.
 Photos by Jason Muxlow