2011 Audi A3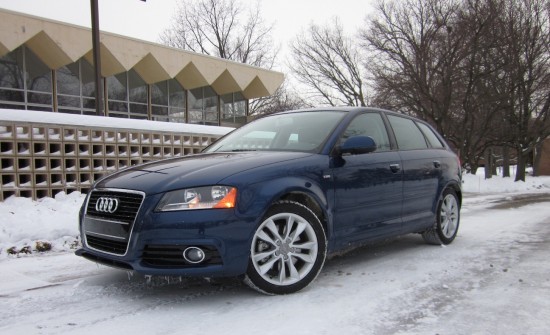 Audi's Entry Level Hatchback Struggles to Earn its Premium Price
      Americans don't like hatchbacks. Automotive journalists do. These are automotive truths that are as universally understood as the need for frequent oil changes, regular tire rotations and the belief that the Pontiac Aztek fell out of the ugly tree and hit every branch on the way down. Possibly just as well understood is that Americans definitely don't want to pay a premium for said hatchback while automotive journalists seem to embrace the idea. Why then is Audi still offering the A3 to North American consumers? 
      We attempted to answer this question by positioning ourselves behind the wheel of a 2011 Audi A3. Like typical automotive journalists, we were convinced this was going to be one sweet ride. We generally have enjoyed the time behind the wheel of any Audi we have sampled and expected the littlest one to be no different. After all, we had generally good things to say about the A3's sister car, the Volkswagen Golf, when we drove that car in TDI form last year. Then again, perhaps not, since this A3 is based on the previous generation Golf sold in the North American market as the Rabbit.
      Our test car was equipped in decidedly atypical Audi fashion. No quattro AWD, manual transmission or diesel powertrain for this 5-door. Instead we were propelled forward by means of a 200 hp 2.0-liter direct injected turbo four powering the front wheels through a six speed S-Tronic automatic. S-Tronic is Audi's fancy name for its dual clutch transmission, while they have chosen to brand their direct injection system TFSI. Whatever you call it, this relatively basic hatchback featured merely three options: Scuba Blue metallic paint, Bluetooth package and a Cold Weather package. At $31,200, Audi's hatchback just barely lives up to the brand's premium heritage, even if the overall content is a bit lacking.
      Undeterred by these facts, we set out for a winter road trip to attend the great Chicago Auto Show at McCormick Place. Normally this trip would have put that Cold Weather package to the test, but our late night trek across southern Michigan started out with unusually pleasant conditions. Having hit the road with the headlights set on auto, we suddenly realized that we had been driving with nothing but the fog lights for the first 20 miles. These "automatic" settings proved to be counter intuitive. Admittedly, the fog lights are brighter than the sealed beams on my old Dodge Shadow Shelby, but we're sure more than one fellow traveler presumed my stupidity.
      Lacking a navigation system we pointed the Audi down I-69 and set our brain on autopilot, having driven this route between Flint and Chicago literally hundreds of times before. The A3 soaked up the highway without any unnecessary jarring or discomfort. The A3 proved amazingly swift attacking on ramps, due in large part to the impressively quick shifting S-tronic transmission. Steering was pleasantly precise and may even have made us forget at times that this car is cursed with a front wheel drive layout.
      Adjusting the temperature control knobs came as an unpleasant surprise. They do not rotate as expected, but rather take a flick of the wrist to the right or left to ratchet the climate control up or down to the desired temperature. Turning off the system proves to contradict intuition as well, lacking a normal on/off button. The radio controls were nearly as infuriating to decipher. One wonders if Audi is hoping potential buyers will opt to upgrade to its MMI infotainment system after playing around with this standard radio.
      Once we reached the Chicago suburbs, four of us ventured down to McCormick Place to see one of the world's largest attended auto shows (over one million visitors each year). The rear seats proved up to the task, with my 6-foot-plus father in the front and even taller brother in the back. The common observation that seemed to be shared was even though the A3 was plenty comfortable it didn't feel expensive. Audi and Volkswagen have a reputation for leading the industry in high quality interior materials, but this hatchback did not live up to those lofty expectations. The interior design featured not even a hint of clever design. It was clear to us this little Audi is beginning to show its age. Although not introduced to North America until 2005, this basic car dates all the way back to 2003, making it one of the more senior cars on sale in the United States.
       On the return trip to Michigan we were blasted with a seasonally appropriate snowstorm. After hours of creeping on the highway we were thankful that Audi saw fit to equip our test car with snow tires for just such an occasion. Fortunately, we didn't find a need for Audi's quattro all wheel drive system. As we have always held, snow tires are generally a cheaper alternative to a complex, heavy and expensive AWD layout. Once back in Flint, we found that our fuel economy was a respectable 28 mpg. This was impressive considering the amount of time that we spent creeping with slow moving traffic as the snow fell. Audi's window sticker rating on the A3 is only 22 mpg city and 28 mpg highway. This is another disappointment for what is, after all, a small car.
      With so much seat time in the A3, we began to think about the reality that few Americans view hatchbacks as a viable body style for a premium car. We were expecting to thoroughly enjoy the A3 and give our unabashed recommendation for this premium hatchback. The problem is Audi doesn't seem to be doing the premium hatchback segment any favors with the A3. Despite an A5-style facelift, this five-door is showing its age, its interior design is unimaginative, interior materials merely acceptable, and the climate and radio controls below par. Audi needs to breathe some new life into its entry level offering to make us feel like we are getting our $31k worth of hatchback. Until then, don't expect America's opinion of premium hatchbacks to improve.   
The Good:
Responsive powertrain and handling, hatchback versatility, comfortable seats.
The Bad:
Aging design inside and out, nothing special interior materials, a cheaper VW GTI feels like twice the car.
The Verdict:
Nothing is special enough here to break Americans of their anti-hatchback sentiments.
Photos by Erich Gernand