2011 Audi Q5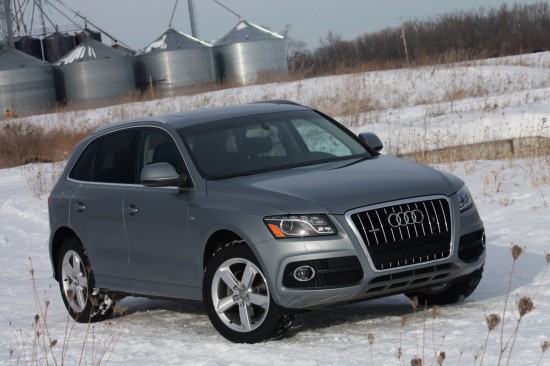 Value and Style In a Right Size Package
     There is no shortage of luxury crossovers. From Lincoln to Lexus any self-respecting automaker with their head in the game is trying their darnedest to combine luxury sedan dynamics with "I'm not a wagon" styling. Audi got into the midsize crossover game in 2009 with the Q5 and we liked what we saw. Apparently consumers did too since the Q5 is now Audi's second bestselling vehicle behind the ubiquitous A4. Lately we've driven our fair share of these oh so vogue vehicles including the Lexus RX and the Cadillac SRX and decided to take a closer look at Audi's offering. We were secretly hoping we'd get to plant our curious keisters in the newly available for 2011 2.0-liter turbo and 8-speed automatic model, but because beggars can't be choosers we didn't complain when Audi delivered a V6-powered Q5 for our evaluation.
     To our eyes Audi's midsizer is the best looking crossover you can buy. You may not agree with us, but you should. We're particularly fans of the nicely integrated dual exhaust tips, chrome roof rails and subtle body lines running the length of the vehicle. Factor in high-tech LED lighting featured in the front and rear lamps, sporty 19" wheels and an arching roofline that makes the competition look like cardboard cutouts and it's easy to see why the Q5 has drawn an instant customer base. Another might be that it is priced right in the sweet spot of luxury crossovers: that being 35 to 50 large.
     Even if you wanted to argue with our styling praise anyone who spends a few hours behind the wheel won't be able to condemn Audi's engineers. With the Q5 they've come very close to recreating the praiseworthy dynamics of their A4 sedan in this substantially taller (nine inches, in fact) package. Our V6 model came with standard 19" wheels appropriately fitted with snow tires for our February testing. For the most part we liked the ride and handling, which skews much more toward the stiff and sporty side of the equation than most of the upscale luxury pods we've driven lately. Although Audi Drive Select—a $2,950 optional system that adjusts steering, throttle, transmission and shock stiffness—is available, our model featured the standard steel spring suspension. Our only wish was for slightly better impact isolation as frost heaves were transmitted through the chassis with a crack. We're willing to concede the factory all-season rubber might take the edge off our complaint here.
     Still, we'd probably keep things as is since the Audi stays nicely flat in the corners and transitions responsively with quick reactions from the surprisingly heavy steering. Again, we like the sporty character engineers have favored here, but suburban housewives might think something is "wrong" with their new car's steering if they traded in a Lexus. Considering the aggressive tuning of the rest of the dynamic systems we were a bit surprised that the brake pedal felt slightly spongy. Even so the system was powerful and the pedal isn't any worse than the competition.
     The 3.2-liter Direct Injection V6 should make more than the 270 hp and 243 pound feet of torque Audi quotes, but you won't find us complaining too much. The Q5 and its quattro all-wheel drive system punishes the scales with 4,299 pounds but moves along quicker than expected thanks to a ultra refined and truly responsive 6-speed Tiptronic transmission. Audi claims 0 to 60 mph in 6.7 seconds and we don't doubt it. We spent our fair share of time at the far end of the tach since the engine pulls hard to its 7,000 rpm redline and returns a great note above 3,500 rpm, yet we still averaged close to 22 mpg. We were pretty happy with those results considering the EPA ratings of 18 mpg city and 23 mpg highway.
     The interior will be familiar territory to anyone who has frequented an Audi cabin over the past half decade. In fact, some parts are a bit too familiar since we've been staring at the same Audi corporate steering wheel since the '05 A6 arrived. Aside from a general lack of design daring the Q5's innards will satisfy most passengers' needs with solid switchgear (we still love those knurled metal knobs), legible gauges, superb fit and finish and deep cupholders that can lock down a Big Gulp but will consequently interfere with manipulating the MMI controller. Audi offers a few welcome luxuries like a truly giant panoramic glass roof and a punchy Bang & Olufsen sound system that is worth all of the $850 asking price. We're fans of the matte finish wood trim, the large side mirrors—even if they do cause a bit of wind noise—and the thoughtful height adjustable and sliding center armrest, less so of the itsy bitsy center console storage space beneath it.
     After our first drive we were well on our way to understanding why the public has so heartily embraced the Q5 and then with a glance at the bottom of the window sticker we were smitten. Expecting an as-tested price deep into the $50k range, we were pleasantly surprised to find $47,700 and the very real possibility of squeaking under the $45,000 mark by forgoing Audi's three grand Navigation Plus package. Combine the strong value quotient with the high style and sporty demeanor and Audi has delivered a luxury crossover that demands to be considered. 
The Good:
The best looking crossover on the market, sporty in all its actions, great sound system, easier on the pocketbook than much of the competition.
The Bad:
Flimsy 2nd row cupholders, laughably cheap sun visors, 2nd row seatback should recline a bit more, $475 for gray paint, won't smooth out a rough road like an RX 350 will.
The Verdict:
In a sales segment on fire Audi's Q5 burns brightest.  
Photos by Jason Muxlow