First Drive: 2013 Lexus GS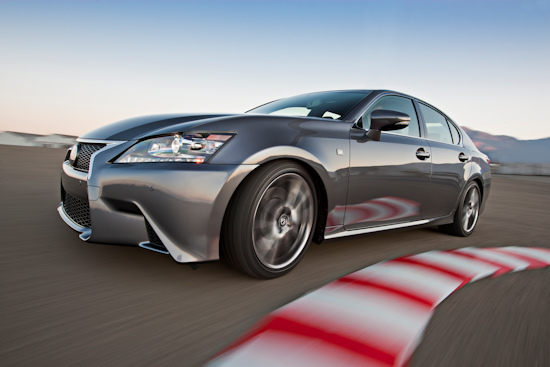 Lexus Caters Less to the Realtors and More to the Racers 
     Over the course of the last decade Lexus seems to have become the official conveyance of realtors across the country. Realtors seeking an isolated, quiet, plush yet inoffensive cocoon to shuttle prospective clients to and fro have adopted the Lexus lineup as their transport of choice. Until recently the company seemed content with the reputation they've earned as a builder of reliable but staid luxury vehicles. But now executives are convinced that to grow the brand and attract some interest from Audi, Mercedes and BMW drivers they'll have to add some sport to their currently soft sedans and after a day spent throwing the new 2013 GS lineup around the infield road course at Las Vegas Motor Speedway, we can confidently report that they've done just that.
     To compliment the new bolder more confident direction of the Lexus brand it's only natural to launch a new design that's also bolder than anything we've seen from the company's mainstream. The new spindle grille will quickly spread throughout the lineup and finally give the company a bit of an identity. The profile remains uninspired but the rear of the vehicle is modern and visually taut and the new F Sport trim looks especially athletic with dark-finished 19" wheels and low profile tires. Good luck telling the GS 450h hybrid apart from the traditional GS 350 gas-only model since Lexus intentionally keeps the hybrid low key. It basically comes down to different badging and hidden tailpipes and that's just fine with us. If you want to shout your eco-mindedness Lexus will be happy to sell you a HS 250h. Besides, Lexus has always positioned the GS Hybrid as more of a performance enhancing hybrid than an outright economy enhancing hybrid. We're happy to report that with the new model they've made progress in both areas with a 35% improvement in fuel consumption (now 31 mpg combined) and a 5.6 second sprint to 60 mph. This is our kind of hybrid.
     All GS models will use the latest iteration of the 3.5-liter V6 that Lexus has been fine tuning for a number of years now. The V8 offered in the outgoing GS generation has not been invited back for this go-round. Normally we'd bemoan the lack of a "fun" engine, but engineers have done such a great job waking up the V6 that we expect real-world buyers to be completely satisfied with the standard engine. On paper its 306 hp and 277 lb-ft of torque put it only midpack among its competitors but lay into it and the resulting high-rpm rip will reward your eardrums like no other offering in its class. You simply aren't prepared for how good this car sounds above 4,500 rpm. Even the hybrid, which uses a new Atkinson cycle version of the engine that combines with the 650V electric motors to create 338 total system horsepower, sounds better than a lot of self-proclaimed sports sedans.
     Even though the competition is rapidly adopting seven and eight speed transmissions Lexus is continuing to polish their 6-speed auto and have included standard paddle shifters to add credibility to their newfound desire to offer an engaging driving experience. Like the V6, the 6-speed automatic leaves no room for criticism with quick shifts, the ability to blip the throttle on downshifts and completely faultless shift logic when placed in the sportiest setting and running hard on the track. Lexus says gear changes can be performed even faster using the paddles but out on the track the transmission was so adept to the environment that we simply let it handle things and concentrated on our line. If the boys at the club start ribbing you about your car's "yester-tech" transmission just confidently offer to settle it on the track.
     To help advance Lexus' desire to create a stronger connection with the driver every GS now offers a Lexus Drive Mode selector on the center console that allows you to easily toggle between preconfigured levels of car setup. Hybrid and base GS models default to a normal mode but can also choose ECO to prioritize fuel economy. This mode slows throttle pedal input resulting in lazier engine response plus it modifies the HVAC system for maximum economy. With a racetrack at our disposal we did not stay in this mode long. All cars feature a SPORT S mode with sharper throttle response and sportier shift logic from the transmission. The cars were noticeably livelier once this mode was selected and we imagine a lot of enthusiasts still wanting a comfortable ride will make this their daily choice. Those of us wanting the complete sports sedan experience will have to choose the GS Luxury or, better yet, F Sport packages. Those two trims add a ridiculously named but worthwhile Sport S+ mode that adds in a stiffened adaptive suspension and steering system to the aforementioned Sport S powertrain settings for a truly competent package.
     Those customizable settings work with the strengthened chassis and wider track (1.5" up front, 2" at the rear) to create a substantially better handling sedan and a rewardingly responsive chassis. Outright enthusiasts will want to choose the F Sport trim which is a comprehensive upgrade in all areas. The top-spec F Sport features the stiffest adaptive suspension, 14" front brakes with high friction pads, a new Lexus Dynamic Handling rear steer system with up to two degrees of rear steering input and summer tires. No surprise, it's our favorite. It loves the track and hangs on tenaciously through the corners far beyond what most drivers would dare attempt on a public road before the slightest hint of tire squeal signals the limit of grip. Outside of an IS F no Lexus sedan has ever rewarded its driver like this.
     Since life can't be all about track days we spent some time pouring over the new GS F Sport on the roads around the track. The available 18-way power seats are just as comfortable as they sound with good bolster support and welcome shoulder and thigh adjustments. The dash is dominated by the 12.3" widescreen nav system that is so expansive that it can easily display a full map readout on the left and any number of other functions such as audio selection on the right, if you choose. It's like having two of the competitors nav systems available at all times. Lexus is also launching its Enform 2.0 system with downloadable apps that will reside on your smart phone for easy updating and that stream content to the car from services such as Pandora, Yelp, Bing search, etc. The whole system relies on the second generation Remote Touch interface which replicates a computer mouse and has been vastly improved since confirming a selection can now be done with an easy press down of the selector instead of requiring a separate Enter button like the outgoing system. It's an improvement, but still not as efficient as competitors' systems and we wouldn't be heartbroken if it didn't make it to a third generation. Actually, like an outdated computer the whole system returns a noticeable one second delay after selecting anything which was just enough to annoy us and will hopefully be resolved in production cars. The interior is assembled of Lexus' typically praiseworthy materials and offers a beautiful thick steering wheel, aluminum pedals and available red leather seats to drive home the car's sporting intentions.
     But really, it will only take a few corners for anyone to understand the intentions of the new 2013 GS lineup. Realtors are out. Racers are in. As someone firmly in the latter group we're glad to hear company leaders proclaim that once the GS goes on sale in February there's no going back.
Photos courtesy of Lexus