2012 Nissan Juke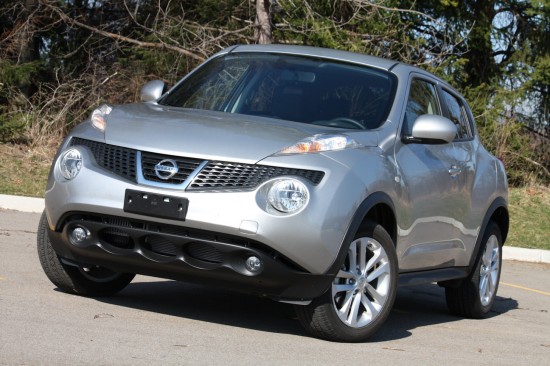 Surprise!
     We don't get many surprises in the AT Garage these days. By the time a vehicle is teased and then detailed down to parts numbers in a thorough press release and then bestowed with a gala auto show debut we've pretty much formed an opinion. Which is how we came to assume the Nissan Juke was an ity-bity engined, cramped-cabin crossover abomination that puts the ugly in really, really ugly. Turns out only the last part is true, and even then the ugly is pretty much confined to one side. So what changed our tune? Read on.
      It's a testament to the engineering prowess of the times that we were unanimously smitten by the 1.6-liter direct-injection turbo under the Juke's short hood. A few years back such puny displacement would include a permanent sentence to the slow lane but technology has liberated 188 horsepower and 177 lb-ft of torque that pull the little 2,941-pound oddball around with invigorating haste. With full torque available between 2,000 and 5,200 rpm acceleration is never far away and the superb 6-speed manual of our SL front-wheel drive model only multiplied the driving fun. Spot on clutch take-up and tight, short-throw gates made this one of the best manuals we've driven in a front wheel drive vehicle in many moons. The alternative is a CVT and paying $1,650 for an all-wheel drive model mandates the gearless tranny so we'd stick with front-wheel drive and put some of the money we saved toward snow tires.
     Our top-line SL model comes loaded with everything you need including a sporty set of sensible 17" wheels and tires that complement the short wheelbase by providing quick turn-in and the handling response of a sport coupe, plus a surprisingly good ride quality for such a wheelbase-challenged vehicle. We would like more brake bite when initially dipping into the middle pedal but that was about our only dynamic complaint. Well, the steering doesn't really offer any feedback but that quality is getting very hard to find these days so we'll just be happy that it offers decent weighting and call it better than the class average. Nissan includes a full suite of standard safety systems including Vehicle Dynamic Control and Electronic Brake-force Distribution.
     As the week wore on we actually found ourselves digging three of the Juke's four sides, especially the distinctive profile and the 370Z-inspired brake lights, but there's no hope we will ever warm to the front end. Who can defend six separate lights and that full-width gaping grille? Unique is one thing; Mechanized Praying Mantis is quite another.
     The staff did pen unanimous praise for the Juke's interior where we found strong materials, very comfortable seats, refreshing use of color throughout and a great driving position. Only a couple problems to report include the lack of a center armrest and a dated nav system. We don't want to mess up the stylish center console so we'd settle for a seat mounted flip down armrest and we'd ask Nissan to move the 5-inch nav system and its dated graphics to the options list (it's standard on SL trims) and pass the savings on to the customer. We reckon the demographic buying the Juke will be using their smartphone and Google maps to navigate anyway. We further reckon nobody in said demographic actually uses the word reckon. The standard backup camera did come in handy since the thick C-pillars and smallish rear window do no favors for rearward visibility. Nissan has been a bit brilliant when it comes to minimizing clutter by utilizing the same set of buttons for the climate controls and the Drive-Mode selector. Under the nav system there is a screen surrounded by buttons. Above that grouping are two buttons labeled Climate and D-Mode. Pressing Climate backlights all the buttons with various HVAC system controls such as vent selection, A/C, etc, and displays relevant information on the screen. Pressing D-Mode then instantly changes the button backlighting to reassign dynamic selections, such as, ECO, NORMAL and SPORT to the same controls. The screen will then display a digital turbo boost gauge or other dynamic information. It's a slick setup and more automakers should steal the multipurpose button tech. Having said that, actually telling a difference between the D-Mode selections is pretty difficult outside of ECO mode, which really dulls throttle sensitivity. We were happy to leave it in Normal most trips.
     Nissan certainly packs the equipment into the SL model including a moonroof, heated leather seats, Rockford Fosgate stereo components, Bluetooth, keyless start and a USB port. For $24,335 all-in it's a strong value in the compact car/crossover class. We think owners will be happiest with the Juke if they can effectively use it as a 2-seater and leave the 2nd row folded flat to increase cargo capacity to a useful 35.9 cubic feet; otherwise space under the rear hatch is only 10.5 cubic feet. Engineers have included some handy space under the rear load floor that we rather liked. If you must use the back seats you'll be quite content if you are 5'10" or under. Taller passengers can manage with some compromise from front seat occupants and a teenager-inspired slouched down and splayed leg posture.
     It's fair to say Nissan's bold urban sport cross (their words, not ours) caught us by surprise. We were won over by the overachieving powertrain, enthusiast-friendly manual transmission and well-equipped stylish interior. Fuel efficiency ratings of 25 mpg city and 31 mpg highway are about average for small crossovers, but this one is easily the most fun among a strong group of competitors. Now if Nissan's front end designers would just take their blindfolds off and try again they could make a diamond from the rough.
The Good:
Peppy turbo power, slick six-speed manual, stylish and comfortable cabin, clever climate and Drive Mode systems share the same controls, priced right.
The Bad:
No center armrest, outdated nav system, limited cargo capacity, lazy brake bite.
The Verdict:
We don't normally like surprises but if more were as good as Nissan's Juke you wouldn't hear us complaining.
Photos by Jason Muxlow