First Drives: Hyundai Veloster Turbo, Elantra GT and Elantra Coupe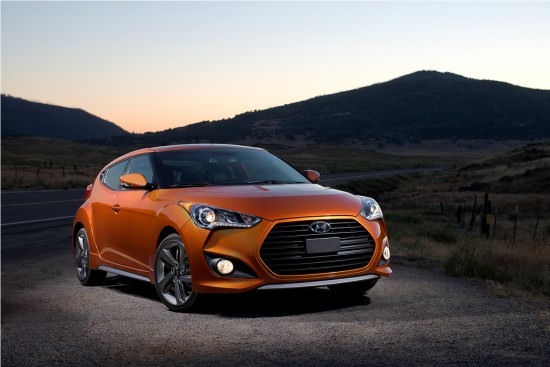 We Sample Two New Elantras and the Turbocharged Veloster 
     We can use a lot of words to describe Hyundai but lazy isn't one of them. Their showrooms are filled with one of the freshest lineups in the industry and that's a big reason they are on track for another record sales year. In fact, it doesn't seem to matter which metric you choose—fleet fuel efficiency, incentive levels, transaction prices, day supply—Hyundai is in stellar operational shape.  Without a doubt their biggest challenge is meeting demand with the serious production constraints they face. But that hasn't stopped Hyundai from developing new product and continuing to flesh out their lineup. We recently spent a day with President and CEO John Krafcik as he showed off three new additions to existing model ranges at Michigan International Speedway.
2013 Hyundai Elantra Coupe
Photos courtesy of Hyundai






     The Elantra was already a winner in its class but a lonely sedan, even the best looking one, won't cover all the bases in the compact market so a Coupe and a 5-door called the GT are joining the 2013 lineup. The Coupe looks positively lovely with a long greenhouse and thin C-pillars that combine with the 106.3" wheelbase to visually lift the car above its class competition and complement the sedan very nicely. We were pleased to see that Hyundai made smart use of all available space and earned a midsize designation by offering 95.4 cubic feet of passenger space (more than even the Honda Accord and Nissan Altima coupes offer) plus a generous 14.8 cubic feet of trunk space that is significantly larger than what the competition delivers. The interior is an enjoyable place to be with pleasing textures, comfortable seats, plenty of room in both the front and rear seats and, in typical Hyundai fashion, more equipment than you'd expect, even in the base model we sampled. Satellite radio, iPod integration, Bluetooth, steering wheel audio and cruise controls as well as heated front seats are all standard.
     A 145 hp version of the direct-injection 1.8-liter I4 is the only engine on offer. We were happy to see both 6-speed manual and automatic transmissions available although only the manual can claim a 40 mpg highway rating. The automatic is rated at 28 mpg city and 39 mpg highway. Our brief drive in an automatic equipped Coupe proved a comfortable surprise with smooth shifts, a refined engine note, supple suspension and great visibility in all directions. Coupes are tuned for sportier responses and benefit from a quicker steering ratio, modified dampers and a rear anti-roll bar. Hyundai is proud of the standard disc brakes at all four corners and we liked the positive feel of the firm brake pedal. Road and wind noise were also commendably low, especially so for this price class.
     Coupes will be priced from just over $18,000 to just under $24,000 and include Hyundai's fantastic warranty coverage. No matter how you look at it the Coupe should have no problem attracting buyers who want a lot of equipment in an expressive and roomy coupe body that still delivers great fuel economy.
2013 Hyundai Elantra GT
Photos courtesy of Hyundai






     The 5-door GT model is coming to our shores from Europe riding on a 2-inch shorter wheelbase than its sedan and coupe brethren but maintaining much of the sporty fun-to-drive dynamic that a European 5-door is expected to offer. The car appears a little stubby in pictures but looks better in the metal with a particularly attractive chrome beltline and grille accents. Hyundai emphasized the GT would be the driver's choice of the Elantra offerings with its stiffer body, Sachs dampers, front and rear anti-roll bar and Driver Selectable Steering Mode with comfort, normal and sport modes selected by a steering wheel mounted button.
     All those changes combine with Hyundai's praiseworthy pursuit of lower weight (The GT manual weighs just 2,745 pounds) to result in a car that was properly fun on the curvy two-lane roads Hyundai mapped out for us. Our automatic model was surprisingly responsive so downshifts were delivered whenever our right foot dipped into the throttle. We'd like the Shiftronic function to be quicker but really you should just stick with the manual and save yourself $1,000. The same 1.8-liter used in the other Elantras is also in service here but makes 148 hp and 131 lb-ft of torque in this application. Regardless of transmission choice the GT can only manage 39 mpg on the highway.
     The interior enjoys the same attractive materials and textures as the other derivatives and the climate and nav system are both blessed with easy-to-use controls and clear graphics. Our loaded model featured a panoramic sunroof, aluminum pedals, keyless start and a trick rear view camera with a badge-integrated lens that tilts up from the back hatch when it needs to take a peek and tilts back out of sight when not needed. The 2nd row seats fold flat to extend the cargo area out to 51 cubic feet and Hyundai has included some extra storage space under the rear load floor.
     Pricing for the GT runs from about $19,000 to $25,000 and with plenty of buyers looking to maximize the utility of their car we don't think Hyundai will have any problem talking 15% of Elantra buyers into the distinctive practicality of the sporty 5-door GT.
2013 Hyundai Veloster Turbo
Photos courtesy of Hyundai






     As enthusiasts we were understandably most excited to get behind the wheel of the Veloster Turbo. As you know from our review of the naturally aspirated Veloster we like a lot about this car. From its unique style and helpful 2nd row door to its class-leading seats and impressive technology the Veloster is a terrific value in search of some torque and suspension finesse. The Turbo aims to address both issues with a comprehensively upgrade.
     The real story is the twin-scroll turbocharger that breathes new life into the 1.6-liter GDI four-cylinder. Power rises to 201 hp at 6,000 rpm but the part we like even better is the 195 lb-ft of torque available from 1,750-4,500 rpm. The twin-scroll is a rarity at this price level but engineers praise its quick response which enhances low-end torque. For comparison purposes the non-turbo manages just 123 lb-ft at 4,850 rpm. It's a night and day difference, folks. Still, the Veloster Turbo is not sports car quick. It's now most accurately described as an athletic sport coupe that will no longer be embarrassed by diesel Golfs at stop lights. Unlike most turbocharged cars the Veloster will not require premium fuel, a pleasant surprise for enthusiasts on a budget.
     The 6-speed automatic manages 25 mpg city and 34 mpg highway but the standard 6-speed manual does substantially better with 26 mpg in the city and 38 mpg on the highway. The automatic includes paddle shifters but we spent all of our time driving the manual examples on hand. We wish Hyundai could find a way to dial in a more mechanical feel as the current shift linkage is so light and isolated that rowing through the gates isn't a particularly satisfying action. We do like the firm brake pedal and the stopping power from the upgraded 11.8" front discs. Hyundai has quickened the steering ratio and included 18" wheels as standard equipment. Although our drive route didn't include many frost heaves or other sharp impacts I believe the base Veloster's punishing front suspension has been relaxed because our Turbo proved willing to absorb most of the patched pavement we encountered. We'll reserve judgment on the Turbo's ride quality until we can put some more miles on it in a wider range of road conditions, but the early indications are encouraging.
     The stylish cabin remains intact with blue or gray accents available on the still comfortable and even more supportive sport seats. The standard 7" screen offers quick responses and modern graphics, the Turbo is very comprehensively equipped with standard LED headlight accents and taillights, Dimension 8-speaker audio system, satellite radio, iPod connectivity, keyless entry and push button start and leather heated seats. The only option group is appropriately named the Ultimate Package and throws in backup sensors, panoramic sunroof, automatic headlights, nav system with review camera and a 115v outlet for $2,500. That brings a fully loaded manual model to just over $25k. Add a grand for the automatic transmission and another thousand for the super slick matte gray paint (specialized care required) or forgo the expensive options package and get into a Veloster Turbo for just under $23k.
     We're glad Hyundai didn't change much outside since the Veloster's looks were already its best asset. The front grille is now even larger and the new 18" wheels are a good match. The awesome center mounted exhaust remains but now features large round chrome tips and the rear bumper has been aggressively restyled. It's a look that still proclaims "You'll never catch me in a Camry", but now with a proper engine underhood, you won't have to worry if you find yourself lining up next to one at the light.