2015 Chevrolet Trax LT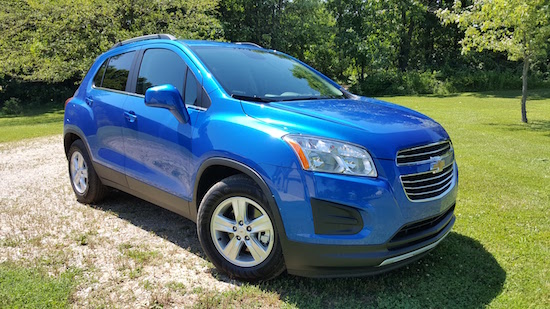 Chevy's Tiny Crossover Aims for Average
The Bow-Tie marketers would have you believe the Trax is a custom-built small SUV they've gifted to modern urbanites to conquer the rigors of big living in tight spaces. We're here to tell you it's actually just a high(er) roof Chevy Sonic that will appeal to average car buyers both young and old that have proven again and again that when given the choice they'd rather sit higher in their vehicle. There's nothing wrong with that and indeed a whole new class of tiny crossovers are entering the fight for buyers' attention. We spent a week living with a mid-range Trax LT to see if it could earn our recommendation.
The chassis dynamics of the Trax surprised us by adding up to more than the portly styling and Torsion beam rear suspension led us to believe would be possible. But considering we've been previously impressed by the Sonic's handling, and the same platform underpins the Trax, maybe we shouldn't have been so surprised.  Body roll is kept to natural levels and turn-in is on the responsive side. Ride quality is well above average and probably boosted by the high profile 70-series 16″ tires on our model. The fact that they were up level Continentals instead of the bargain basement rubber usually fitted to this segment didn't hurt. The electric power steering is par for the class, which means no feedback or feeling, just smooth light weighting that buyers will find familiar. Braking is one area that could and should be upgraded with rear drum brakes still standard across the lineup.
Mechanically we think GM still has one of the best powertrain combos in the less-than-$25k segment and they feature it under the hood of every US spec Trax. The 1.4-liter turbo is a tiny but torquey four-cylinder that doles out 148 lb-ft of torque from as low as 1850 rpm. Horsepower peaks at 138 at a still useable 4,900 rpm, but the accessible torque is what has won us over in every vehicle we've sampled this engine in. While doing its work the turbo stays smooth and quiet and returns 34 mpg highway in our front-wheel drive Trax. All-wheel drive is available for an extra $1500. You'll have to decide if your weather warrants the charge to your checkbook and at the pump where the highway rating drops to 31 mpg. The only transmission on offer in the US is a 6-speed automatic that is slow to respond but fades into the type of dutiful servitude that Trax buyers will never think twice about. Hopefully they never notice how slow the thing is either. We're not expecting much in this class, but here is one area the Trax takes after your average SUV much more than your average hatchback.
Inside we find a corporate parts bin of components making up an average interior. There is certainly no design flair like the newer competition is offering, although Chevy does incorporate some helpful technology offerings like Onstar 4G LTE hotspot connectivity, the 7″ MyLink touch screen system with streaming audio and a USB port for easy connectivity. Storage offerings are better than average with an upper glovebox and a dash-top cubby plus a pull out drawer under the front passenger seat. But front seat passengers were annoyed that there is no center console and they don't receive a fold down armrest like the driver seat offers. As a bonus to cargo holding the front passenger seat does fold down flat to allow for long items up to 8 feet to be more easily transported on Home Depot runs. With the second row folded there is 48.4 cubic feet of cargo space. The Jeep Renegade provides a little more at 50.8 cubic feet. Materials quality around the cabin is below average with hard plastic holding the Trax back compared to newer rivals. Visibility is hampered by a wide C-pillar and blind spot monitoring isn't available to help. We did heap praise on the comfortable front seats but overall found the interior boring and dated. We'd recommend GM let the team responsible for the new Impala and Malibu get their hands on the next Trax.
Nobody can blame Chevrolet for trying to flesh out a derivative of its successful Sonic compact car. However, there is a lot of new competition in this segment from the likes of Jeep, Honda and Mazda so we would encourage Chevrolet to examine the new players and bring some style to the Trax before savvy buyers realize it arrived on the  market looking well overdue for a nip and tuck. As it sits, your $23k will buy a lot more style and capability in a Jeep showroom.