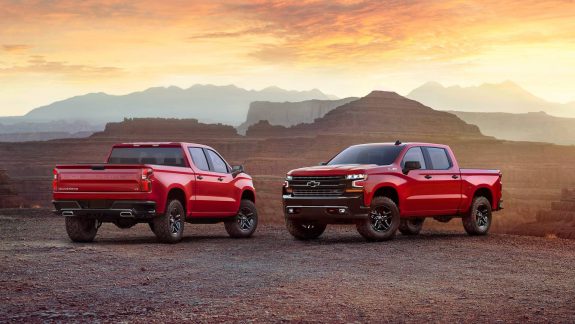 Chevrolet surprised us with a reveal of the 2019 Silverado even though we are still a couple weeks away from the North American International Auto Show and it is still only 2017. If there are any surprises with this design it is that the bowtie brand continues to gravitate back toward its milestone 1988-98 truck design. The two tiered grille remains, but the body sides appear to attempt some stylistic connection to the passenger car line within the brand. This is the new Trail Boss trim so it will be interesting to see what variations in the styling are featured among the typical myriad of trim levels. Read more…
August 11th, 2017
Comments off
The Dodge Durango has been promoted as the three-row Dodge Charger. That description has held some truth. After all, the Charger and the Durango share the V6 Pentastar and V8 HEMI engines. What they have not shared, however, is the Charger's SRT powertrains. That all changes with the first ever Durango SRT. While the SRT (Street and Racing Technology) badge might seem like an oxymoron on a crossover, skeptics may change their minds when they learn of the Durgano's 392 cubic inch V8 that produces 475 horsepower and 490 pound feet of torque. They also may be swayed by the all wheel burnouts such a powertrain can produce with the Durango's all-wheel-drive setup. Zero to sixty comes in at just 4.4 seconds. Indeed, a seven passenger family hauler never looked like so much fun. Exterior modifications on the SRT include a functional hood scoop that looks like it was swiped from the Charger Hellcat, and the looks-like-a-stormtrooper grille and lower fascia. A t-shifter replaces the rotary knob and commands the 8 speed automatic. Stiffer springs and sway bars aid in handling, and Brembo brakes bring the crossover to a stop. If this SRT-badged Durango sounds like a cure for the common crossover, you can find it at Dodge dealers beginning in the fall of 2017.
The Ford Expedition has been a mainstay in Ford's truck and SUV lineup since the late '90s. The truck was originally based on the new-for-'97 F-150 and has gone through several significant updates along the way that has kept the family workhorse relevant. Look closely though, and you will see some windshield and door glass that has carried on since that 1998 introduction. To say, then, that we welcome a truly all-new platform for the Expedition is a bit of an understatement. The standard Expedition returns while the long wheelbase EL version is redubbed Expedition MAX which accommodates an additional 16.8 cubic feet of cargo. Like the outgoing model there is no V8 available. The Expeditions borrows the 3.5-liter V6 EcoBoost from the F-150 so expect about 375 horsepower and 470 pound-feet of torque. While a V6 may seem like not enough engine for such a large vehicle consider that the 2018 Expedition sheds up to 300 pounds over the 2017. Also consider that the original Expedition offered a standard 215 horsepower and 290 pound-feet of torque, so we're sure this engine will continue to prove itself useful. That 300 pound weight reduction, by the way, is thanks to an aluminum intensive body which no doubt shares lessons learned from the recently revamped F-150. Trick features in the new SUV include a hinged shelf/organizer referred to as the Advanced Cargo Manager, second row seats that can tip and slide with a child seat in place, a reclining 3rd row seat, Sync 3 infotainment system, and available connectivity to home cable TV by means of Sling. Expect to see the Expedition and Expedition MAX in Ford dealerships in the fall of 2017.
When Chevrolet introduced the Traverse way back in 2009 few would have guessed that it would soldier on without a major revamp until 2018. Eight model years is ancient in today's marketplace, especially in the hot crossover segment.  The Traverse remains the brand's largest crossover and slots below the jumbo Suburban and Tahoe SUVs. All the basics characteristics that made the Traverse remain; front wheel or all wheel drive with available 8-passenger seating.  The exterior styling seeks to draw the Traverse into line with the rest of Chevy's lineup. It finds a balance between the sleek lines of the new Equinox and the blocky Suburban, complete with wide sail shaped C-pillar.  This time around the Traverse is distanced from its GMC Acadia platform-mate by featuring class leading legroom for third row passengers whereas the GMC has shed weight, length, 3rd row space, and cargo volume. Improving on the packaging of the outgoing Traverse this new large crossover now has under floor storage behind the 3rd seat. Like the Acadia, the Traverse now offers a base 4-cylinder turbo that will certainly improve fuel economy and a V6 that allows for a respectable 5,000 lb towing capacity.  A 9-speed automatic should allow for better efficiency than the outgoing 6-speed. Smart stop-start technology should also help save fuel around town. A myriad of driver assist and safety features bring the Traverse up to date including forward collision alert, front pedestrian braking, low speed forward automatic braking, lane keep assist, full speed forward automatic braking, surround vision, adaptive cruise control, and intellibeam headlamps. It has been a long wait for the new Traverse but it looks like Chevrolet has done its homework to pull this large crossover in line with the best of the industry.
Volkswagen is focusing its efforts to restore brand credibility in what executives refer to as the "diesel crisis" and launched a three way assault at NAIAS to due so. This included the rollout of the Atlas and Tiguan production crossovers along with the retro electric van Buzz concept. The Atlas would make one shrug since it isn't anything new to the marketplace, except that it is a new product that VW has never offered stateside before; a midsize 3-row crossover. VW executives admitted that one thing that has held back its popularity in the U.S. is the brand's premium pricing on mainstream products. To remedy this, VW promised that the Atlas would start at $30,000 and top out around $48,000. One novel feature is the ability to tilt and slide the 2nd row of seats while a car seat is installed in order to gain access to the 3rd row. No diesels in this crossover, but a 3.6L V6 with 276 horsepower gets the propulsion done. The Atlas spans 198.3 inches, swallows 96.8 cubic feet of cargo, and seats seven. That's a formula that normally plays well in Peoria. Now to see if Americans take notice.
For 2018 Volkswagen attempts to draw the compact Tiguan crossover more in line with American tastes. Volkswagen claims that roughly 25% of its sales volume was represented by diesel powered vehicles and it hopes to retain buyers who recognized the strong design and precision engineering offered in its other products.  As part of its efforts to mend relationships with disgruntled consumers after last year's diesel-gate scandal, the redesigned compact Tiguan gains a third row seats. This long wheelbase Tiguan is 10.6 inches longer between the wheels. Referred to as 5+2 seating, it is obvious that the third row is intended for occasional use or for children. The exterior is freshened with LED headlights and tail lights and features VW's modern chiseled sheet metal. Without any diesels available, the Tiguan forges ahead with a turbocharged direct injection TSI 2.0L 4-cylinder engine mated to an 8 speed automatic. Active all wheel drive available under the guise of 4motion with four selectable drive modes. A digital cockpit allows the instrument panel to be reconfigured. The new Tiguan may not be a revolutionary crossover, but it does seem to be a sign that VW is committed to paying attention to Americans want in a small crossover.
Ford is pushing new updates out to it's bread and butter truck and celebrating its 40 years of sales leadership with more power, a new look and a 10-speed automatic paired with all but the base engines. The best way to identify the 2018 models is with the two bars stretching across the entire span of the grille. Every trim features a different grille finish to further identify them and the top trims are more luxurious than ever. We don't have final power figures but Ford did announce that a diesel is joining the lineup, albeit not until mid-2018. For now we will have to be content that the blue oval continues to refine their best seller.
Volkswagen has teased the world with two concepts that drew inspiration from the original Type 2, best known to Americans as the "Microbus." The first concept in 2001 was dubbed with the obvious moniker "Microbus Concept." A good ten years passed and no return of the beloved Microbus appeared. Instead VW gave us the "Bulli" concept which was a small MPV with styling again reminiscent of the original air-cooled hippie van. Alas, this concept would not come to fruition either and American customers were offered a rebranded Dodge Caravan dubbed Routan instead. Now in 2017 VW debuted the oddly named I.D. BUZZ concept that closely mimics the original Samba bus. I.D. stands for "identity," "idea," "individual," "intelligent" and "iconic design." BUZZ, VW claims, is a phonetic word play on "bus" and the "buzzing" of the van's electric drive system. Sorry, Volkswagen, but Bulli was a much more endearing name. Officials insist that the I.D. BUZZ isn't a retro design, but that the original van's shape was so iconic and efficient that it is the intuitive package that houses an all-new all-electric vehicle architecture. That may be the case but there is no mistaking the pronounced beltline that dips down toward the front fascia with a massive VW logo proudly displayed front and center. Four little hockey-pucks on the corners of the roof provide sensors for autonomous driving and a 111 kW battery provides energy for propulsion while stowed below the cargo floor. A perfectly flat load floor provides for seemingly limitless interior configurations. While VW hopes this electric, autonomous concept would satisfy forward thinking Americans, many of would just be happy if the storied German brand would just offer this heritage inspired van to fill the van void in its portfolio.
When GM axed the Pontiac brand back in 2009 it not only left Buick-GMC dealerships without its sister brand, but it also left them without a small crossover. GMC stepped up to the plate for the 2010 model year and gave the world the Terrain which was based heavily on the Chevrolet Equinox. Though the exterior styling was completely different the two vehicles shared powertrains and interiors. The 2018 Terrain seeks to give the diminutive crossover more independence from its Chevy cousin. The interior is no longer shared with the Equinox and offers a curious button activated transmission not available in the Equinox. Exterior styling is smoothed out compared to the blocky outgoing mode and features a floating roofline that is becoming cliché as well as a dramatically rising beltline. Disgruntled Volkswagen owners should take notice that the Terrain now offers a 1.6L 4-cylinder turbo diesel along with 1.5L and 2.0L turbocharged gas engines. As expected, front-wheel drive models are complimented with available all-wheel drive. Those keeping track will notice a V6 is no longer available. SLE and SLT basic models are topped by the premium Denali trim. Expect to see the new Terrain in dealerships late 2017.