2004 Mazda3
The Best Car Under $20,000?
     It's not hard to find a publication that will rave about the latest supersedan from Audi, BMW, Mercedes or Lexus. After all, those cars cost $60,000, $80,000, even $100,000. For that many greenbacks the car had better give us something to be excited about. That kind of money buys you a high-quality interior, a delightful driving experience and styling that is clean and upscale. Imagine our surprise, then, when we found all of these things and more in a sub-$20,000 compact from Mazda. We'll warn you, this review contains ego-enhancing praise galore. Mazda, don't let this go to your head.
     We'll start with what dooms most sub-$20,000 cars—the driving experience. It is here where the 3 separates itself from the pack and becomes a seriously fun car. It starts with an all-aluminum 2.3-liter I4. That may not sound too exciting but a bevy of go-fast technologies, including variable valve timing and four valves per cylinder, ensure maximum torque of 150lb-ft as low as possible and the ability to rev in search of the engines' 160hp. Aiding in that search is the standard 5-speed manual transmission that works in unison with the well-damped clutch to provide commendably smooth, crisp shifts. The shifter itself features fairly short throws and a mechanically connected feel that is hard to find in this class. All 3s (a traditional sedan is also offered) put their power to the ground through the front wheels, which can pull the 2,826-pound car to 60mph in about 7.5 seconds, faster even than Ford's hot-rod Focus SVT.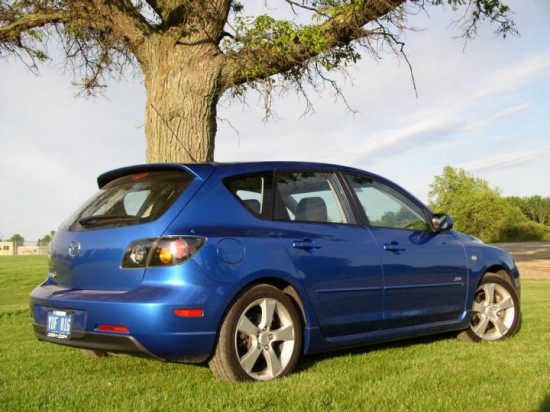 The Mazda 3's driving experience is further lifted from the depths of economy car mediocre-ness by an all-independent suspension with anti-roll bars front and rear that is tuned to a wonderful balance between taking on country roads and taking it easy on your backside. Our 5-door test car came standard with 205/50R 17" all-season tires mounted on attractive 5-spoke alloy wheels. It's standard equipment like this, as opposed to the 15" steel wheels on most compact cars, which pleasantly surprised us and make this Mazda look like it should cost substantially more than it does. Emergency stops are straight and strong thanks to big disc brakes at all four corners. We were especially pleased with the pedal effort of the 3, which is linear and free of the dead zone that plagues so many cars. The fact of the matter is that Mazda knows a thing or two about making cars drive well, and the 3 is no exception. Just grab the nicely weighted steering wheel and point the little box where you want to go. Body roll is kept well in-check and the car hangs on in corners that would have other econoboxes leaving the asphalt in record time.
     Fortunately, Mazda was as successful with the 3's design as they were with its mechanicals. Our 5-door tester joins the tall wagon boom ignited by the wildly successful Chrysler PT Cruiser in 2001. We're still surprised that these vehicles have been so well embraced in a market that has shunned wagons for the past 20 years. Apparently, if you shorten a vehicle and raise the roof until its shadow resembles a toaster—you're on the forefront of vehicular coolness! This style, however, does allow for some practicality improvements over a traditional three-box sedan. Owners can easily fit large boxed objects through the rear hatch, and with the rear seats folded there is a respectable amount of space for a compact car. Some drivers also enjoy the higher seating position compared to a sedan. Since the launch of the 6 sedan Mazda has introduced one handsome vehicle after another and the 3 is no exception. We especially like the 3's nose with its body-colored grille, jeweled headlamps, and lower fascia—complete with fog lights. The entire package, especially in our car's blue hue, looks modern and upscale.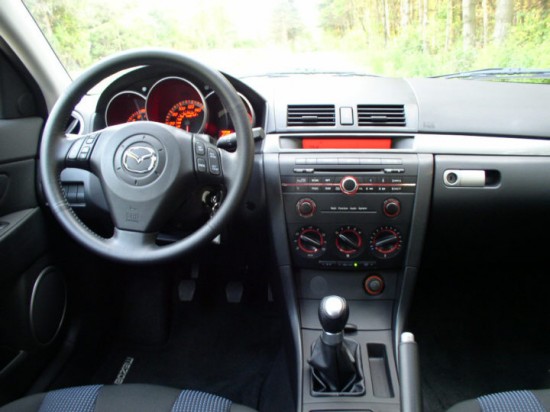 The same compliment could also be applied to the 3's cabin. Mazda uses materials that would easily be at home in a vehicle costing $10,000 more. The three-spoke steering wheel and small round shift knob are trimmed in black leather and redundant cruise and audio controls can be found on the steering wheel, which tilts and telescopes as well. Well-bolstered seats are finished in a sporty fabric that looks great and doesn't cling to clothes like some economy car cloth tends to. The doors, often overlooked in the compact class, feature soft touch plastics and close with a solid thunk—uncommon for a vehicle in this price range. We also appreciated the abundance of cup holders placed throughout the vehicle. Each door has room for a 20oz. bottle and you can invite fast food joints to do their worst but the center cup holders handle 44oz.'ers with ease. Our test car came equipped with only one option, the power moonroof and 6-disc CD changer package for $890. We used both of those options extensively but if you're on a tight budget you'll be pleased to know that Mazda has included power everything as standard equipment. And regardless of your budget, you'll enjoy features not often found in sub-$20,000 cars including, electroluminescent gauges, height adjustable driver's seat with lumbar, and keyless entry. If you're waiting for us to heap disapproval upon something in this car we'd say the sun visors look and feel cheap. Though even then, as Senior Editor Muxlow noted in the logbook, "that is getting picky".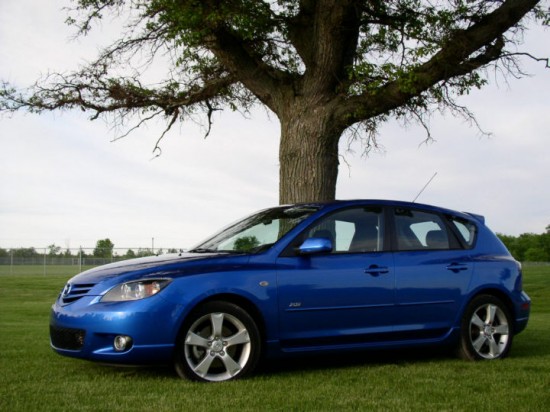 With comments like, "I LOVE this car!" and, "I am sincerely impressed with the 3" filling out the rest of the Mazda's logbook, you might be under the impression we are happy with the Protégé replacement. Well, we are. Imagine that, a publication going weak in the knees for the latest $18,305 compact from Mazda. Akira Tanioka, the Mazda 3 program manager, might have summed it up best when he said, "The Mazda 3 is the best-designed, best-engineered, and most fun-to-drive C-segment (compact) vehicle in the current market."
The Good:
Stylish, well built feel, high quality interior, fun to toss around.
 
The Bad:
Sun visors scream, "Cheap!"
The Verdict:
Mazda moves to the front of the class with this one.