Automotive Trends PODCAST Episode 7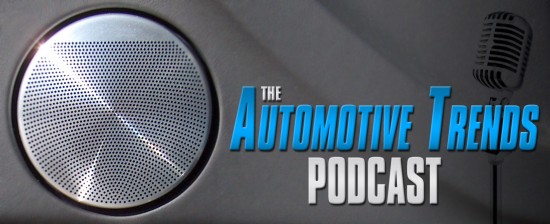 The crew had plenty to talk about this week, at least until technical difficulties shut down the whole operation in the middle of our recording session. No matter, equipment was replaced, settings were tweaked and at least two out of three editors regrouped a few days later to put the finishing touches on our latest round of brilliant banter. Click through to listen for yourself. 
DOWNLOAD THE MP3 HERE

(Clicking the above link should start playing the file in your computer's default media player. If you'd rather listen to the podcast later or transfer the file to your MP3 Player, right click the above link and choose "save target as" to store the file on your computer.)
Hosts: Executive Editor Brandon Dye, Senior Editor Jason Muxlow, Design Editor Erich Gernand (mostly)
Runtime: 52 minutes 7 seconds
Topics: Erich's Roadtrip
Lexus HS250h Hybrid: fuel leak = recall
Suzuki Kizashi: overeager glovebox door = recall (or Suzuki's quick and easy registration and insurance paperwork delivery system?!)
Land Rover Range Rover Evoque

Ford Mondeo gets 2.0-liter EcoBoost
Premium editions of premium cars: stop the madness!
Our plea to stop abandoning cool car names for alphanumeric rubbish
2011 Hyundai Sonata

2010 Hyundai Tucson