2011 BMW 335i Coupe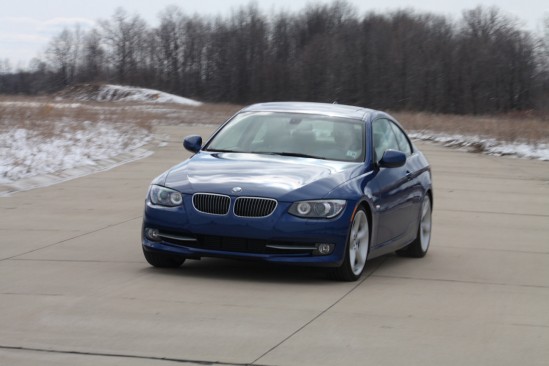 BMW's Popular Coupe Loses a Turbo But None of its Charm
     We're sorry if a certain subset of our readers are tired of hearing the automotive enthusiast press gush about how great the BMW 3-Series (pick a body style, any body style) is. We maintain that if you don't understand why the 3 earns our endless praise you've either never driven one, or are economically relegated to something far less German and far more Gremlin-esque. Either way we feel obligated to remind you that the 3-Series has been around a long time making used examples relatively affordable. Also, life is too short to drive something mundane. The rest of you already know how this review is going to end and just want us to get on with how the newly installed single turbo straight-six engine improves the breed. The quick answer is fuel efficiency. The 841 word answer is below.
     Contrary to many predictions the 335i did not become a peaky and pricey ricer when BMW switched to the N54 twin-turbo I6 for the 2007 model year. In fact, nobody was complaining about the flat torque curve and nice even 300 hp and 300 lb ft of torque power ratings. What did come up for criticism was a drop in fuel efficiency from the '06 model's 18 mpg city and 28 mpg highway to a noticeably thirstier 17 mpg city and 26 mpg highway. In an effort to reduce complexity and cost while bumping fuel efficiency into more acceptable territory engineers went to work on a single-turbo engine they dubbed N55. The result doesn't do much for power ratings as both horsepower and torque remain at 300 but the EPA ratings do climb to 19 city and 28 on the open road.
     After thoroughly exercising our 335i Coupe for a week we can tell you the new engine is a sweet six. The torque characteristics of this engine are truly diesel-like with peak torque available from 1,200 rpm to 5,000 rpm. There aren't many engines that can claim that and still charge to a 7,000 rpm redline, but the three liter uses technology to its advantage including ditching a traditional throttle in favor of BMW's Valvetronic intake system, saving weight with an aluminum block and using a twin-scroll intake design for the turbo to reduce the time it takes exhaust gasses from each cylinder to spin the impeller up to operating levels and thus reduce lag to nearly undetectable levels. It all works remarkably well but it results in an engine and exhaust note that is a tad too quiet and smooth to be anywhere near thrilling. We'd love if BMW would punch up the exhaust a bit but we're sure the aftermarket would be happy to satisfy any owner wanting a bit more bark from their Bimmer.
     BMW left most of the rest of the mechanicals alone and we're just fine with that. Our car featured the standard and ever lovely 6-speed manual transmission complete with the usual easy throws and light clutch pedal. The brakes are far above class average with great pedal response and truly confidence inspiring power. After studying the Monroney and heading to the Montego Blue coupe for our first drive we were expecting a punishing ride thanks to our car's $1,550 Sport Package and additionally optioned 19" wheels with 30-series summer tires, which BMW graciously lets you upgrade to for after lightening your checkbook by another grand. With laughably thin exotic car tires and Michigan's beat up roads we were expecting the worst, but to our delight our notes were filled with phrases like "surprisingly acceptable ride quality" and "very nice ride and handling balance".
     Of course great ride and handling is the bedrock of BMW's legacy so maybe we should have had more faith, but tires with an inch of sidewall tend to make us doubters. The aggressive rubber surely aided in the quick turn-in and agile responses we enjoyed but there isn't much true road feel relayed through the steering wheel anymore and that made us yearn for the days with a few less electronics. But the bottom line is that a 335i optioned like ours is still about the best driver's car you can get this side of a dedicated sports car.
     And this is a long way from a dedicated sports car with plenty of room for up front and decent legroom for shorter adults in the comfortable back seats. Some of our passenger's commented on the large easy to see out of side windows, which in addition to the light leather interior, kept this coupe from feeling claustrophobic. The front seats proved comfortable and, as part of the aforementioned sport package, feature adjustable back bolsters which will provide a pretty snug fit if so desired. Excepting the hard plastic sun visors the overall interior materials are right in line for a car stickering at $53,525 and the ambient lighting around the interior is an upscale touch but the buttons on the steering wheel are marked with confusing little pictograms that are a country mile from intuitive. The gauges are easy to read but here in the States we could do without cluttering up the speedo with so many kilometer per hour markings. The climate controls are easy enough to decipher but the unit's display is ridiculously small. Everyone who settled into the driver's seat liked the thick leather steering wheel and the handy extending seatbelt presenters that we wouldn't mind seeing in more premium coupes.
     The 2011 3-Series Coupe also received some minor styling tweaks like a wider grille, restyled lower fascia and subtly different headlights. Even though the changes are small we'd call them enough of an improvement to make this the best looking 3-Series Coupe ever. Combine that with the smooth and torquey updated I6 and the rest of the unbeatable dynamic package and we're glad to report that the 335i Coupe remains the premium two-door to beat.
The Good:
Looks better than ever, roll into the throttle for a surge of torque in any gear, great ride and handling, back seats fold down to extend the trunk space.
The Bad:
Lackluster standard audio system, hard plastic sun visors, confusing steering wheel controls, BMW options get expensive (especially the $400 iPod connector).
The Verdict:
BMW's small changes make the latest 335i a big hit with the AT Staff.  
Photos by Jason Muxlow