Does A Four Cylinder Belong In Today's Premium Cars?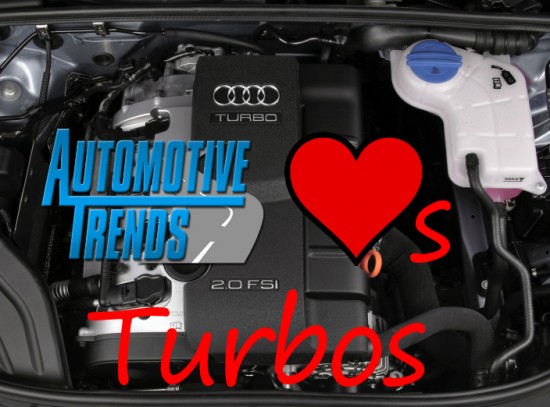 A while back we were staring down a schedule featuring two consecutive Audis powered by the company's latest 2.0-liter four cylinder. There was a time not so long ago that seeing such a pint size engine in a anything from a premium manufacturer like Audi would have spelled certain sales doom and a hearty round of "what were they thinking!" reviews from the automotive press. Having spent considerable time with these engines in various Volkswagen and Audi products, including an A4 that we tested and approved a few years back, we were confident we'd continue to like what Audi was offering. It didn't hurt that both the A4 and A5 were equipped with the standard 6-speed manual transmission, an increasingly rare treat for us three-pedal fans.  But the question remains, does a four cylinder belong in today's premium cars?
     This question is less relevant to the A4 since Audi has been offering inline-fours in their smallest sedan since its debut. Between its small size and lowish starting price around $30k the entry-level four in the previous generation A4 didn't seem that outlandish, especially since Audi offered a V6 and even a V8 in the S4 trim to consumers who wanted more power. Starting with the 2009 model though, Audi has dropped the V8 and moved the V6—now with a supercharger—to an exclusive of the S4, meaning that every A4 that rolls into a dealer showroom is powered by the 2.0-liter TFSI. That means if 211 hp and 258 lb-ft of torque doesn't get your blood boiling you'll have to search the couch for an extra $15k to step up to the blown six in the S4, or visit the BMW or Mercedes dealer down the street.
     The good news is the engine, as we've always said, seems stronger than its power ratings suggest. The little four is extremely smooth with a turbo-backed surge of power that builds until you reach the 6,000 rpm horsepower peak. And with maximum torque spanning from 1,500-4,200 rpm you would never guess you were driving an engine with the displacement of the Mountain Dew in your fridge. It simply feels like an engine in the 3-liter range, which is exactly why we don't blame Audi for dropping the 3.1-liter V6 they used to offer. Why would you pay more for that engine when you can achieve 21 mpg city and 31 mpg on the highway with the turbocharged four? We're not so sure Audi is actually losing any sales to the higher horse engines from BMW and Mercedes anyway since a 335i with even a couple options on it is going to land in the same mid-$40k price range as the sporty 333 hp S4.
     The four-cylinder question is a better fit for a large luxury sport coupe like the A5 which is still available with the grand ol' 4.2-liter V8 in the S4 coupe (the cabriolet has switched to the newer supercharged V6 used in the S4 sedan). Yes, it used to be a given that a stylish coupe like this with a price range well into the sixties would have a powerful  engine—usually in the form of a V8—under the hood, but times have changed. First, 22 mpg for the S5's V8 doesn't sound as welcoming as the 31 mpg highway rating on our A5 2.0. Second, Audi doesn't de-content and soften up the style of the base A5 like manufacturer's used to do. Not so long ago the common practice was to outfit a base model with small ugly wheels, little tires, black plastic exterior trim in place of chrome and a single wimpy exhaust tip among other derogatory downgrades. It was like your new car came with a built-in badge of shame that you couldn't afford the top model. A prime example that springs to mind was the late '90s Mercedes CLK.
     That's no longer the case. Our base A5 can be had with all the same goodies as its more powerful brother. The $36,500 base model still comes with attractive 18" 10-spoke alloys, leather power seats, 10-speaker stereo and a glass panel roof. That doesn't sound like much of a penalty box to us. And with the capable 2.0 under the hood the performance is more than adequate too. Audi lists 6.4 seconds for the run to 60 mph and a top speed of 130 mph. As a staff of driving enthusiasts it's impossible not to long for the deep rumble of the 354 hp V8 in the S5, but for John Doe consumer it's hard to argue with the value Audi is offering here. They'll even let you match much of the look of the V8 model with optional Xenon headlights with LED running lights, LED taillights, beautiful 19" wheels with summer tires, a stiffer sport suspension and comfortable sport seats. All that and more still didn't put our beautiful A5 over $43k; a screaming value in our professional opinion.
     So you can guess what side of the fence we come down on when the car guy topic turns toward four cylinders in today's premium cars. And we can't be alone considering BMW is introducing their own 2.0-liter turbo four in a number of upcoming 2012 models, including the Z4 roadster and midsize 528i sedan. Not to be left out Mercedes has a 1.8-liter turbo four coming in the SLK roadster and C-Class coupe and sedan. It seems Audi has just been ahead of the curve when rolling out smaller engines and understands, as we do, that as long as power and performance continues increasing the cylinder count can continue decreasing.
Photos by Brandon Dye