First Drive: 2014 Toyota Highlander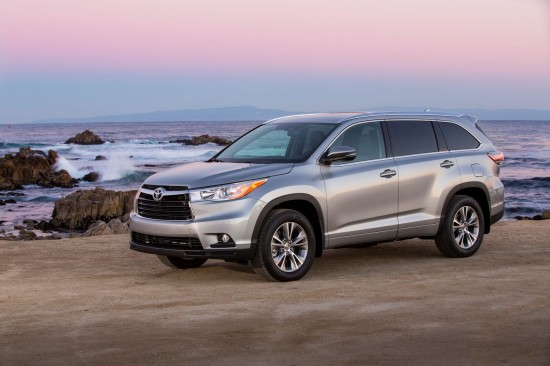 Exploring the Lowlands in the new Highlander
Ironically, Toyota invited us to the lowlands of Charleston, S.C. to test its new Highlander and while bounding through sprawling plantations and zipping around historic downtown streets something became clear: the all-new Highlander is very good. That can only help sales accelerate considering 2013 was the final year of the outgoing model and unit growth was still increasing to the tune of more than 120k last year. With a focus on providing smart and functional details for family use, Toyota wants to cement the Highlander's reputation as a first-class family hauler for moms and attract some new dads to Toyota showrooms with bolder styling and improved performance.
The last part is accomplished by a complete redesign that shows how far Toyota has come since the first Highlander debuted in 2001. That soft generic shape has been replaced by a more expressive front end with a large, upright grille for a tougher SUV-like image and a body that's now 3" longer for a weighty stance that's highlighted by muscular fenders and a strong shoulder line. Dads should approve. Toyota also wanted the new Highlander to appeal to the higher end of the crossover market, so chrome details like the greenhouse surround and roof rails on XLE and Limited help support the Highlander's upward creeping MSRP that now starts at $36,040 for the volume seller XLE front wheel drive. All-wheel drive adds a reasonable $1,460 to every trim. We are particular fans of the standard 18" and the Limited's 19" wheel designs and the whole package adds up to one of the very best looking crossovers in its segment.
The suspension has been refined up front with retuned springs and shock absorbers, but the rear suspension benefits the most with the switch to a double wishbone design with relocated springs and shock absorbers that no longer intrude as noticeably into the interior cargo area. A benefit to ride quality to be sure, but it's a bigger plus for third row passenger space and cargo room. The relocated suspension pieces add 3.3" of interior width allowing for three passengers in the third row where the last generation only accommodated two. Cargo space behind the third row also swells by 34 percent and folding down the back seats is as easy as pulling a strap. All trims except the fleet-minded LE come with a standard power liftgate. Moms should approve. We approve of the ride quality, which even on the uneven brick paved streets of downtown Charleston has us convinced this may be the best riding crossover we've driven.
Toyota didn't mess with what works under the hood where you'll find the same 3.5-liter V6 on volume models making 270 hp and 248 lb-ft of torque. Both numbers are a bit light by class standards with the cheaper Hyundai Santa Fe bringing 290 hp to the table, for instance, but a smart new 6-speed automatic keeps the Highlander moving along fine, and speed in family crossovers is only an issue to automotive journalists anyway. The base LE trim that we mentioned early has to make due with 185 hp from a 2.7-liter I4, but Toyota expects less than 10% of sales to come from that entry level offering and we weren't allowed to drive one anyway. The newly developed on-demand all-wheel drive system normally sends 100% of torque to the front wheels when cruising but can split 50:50 when needed. Toyota rates the XLE and Limited trims at 5,000-pounds of towing capacity, which is an impressive feat for a midsize crossover and more than enough to tow a family's worth of fun stuff to the lake for the weekend. The V6 returns 19 mpg city and 25 mpg highway, but all-wheel drive shaves a mile off each cycle.
What really turned us into Highlander fans was an interior that has been improved in every regard. The design features pleasing colors, textures and materials that are class-leading all brought together to form smart ergonomic solutions and family-oriented comfort. Some of the most functional are the new dash-wide "shelf" to hold and recharge gadgets and the rolling top center console that can swallow 38 pop cans—yes, thirty-eight! The best part of the massive console is that, unlike with other designs, you don't lose your armrest with the lid open. But the genius doesn't stop there. We also like the ambient lighting in the Limited, the captain's chairs in the second row, the huge panoramic sunroof (although why this is only available on the Platinum upgrade to the Limited trim is a bit limiting in our opinion), tri-zone climate control, standard second row side window shades and the list goes on. We're optimistic that Toyota has returned to utilizing "a class-above" materials throughout their interiors after cutting out perhaps too much cost the last five years. Even the back doors were as nicely finished as the fronts and that's not often the case with mainstream manufacturers. Toyota is even innovating when it comes to parents talking to kids who may be in the third row with a new feature called Driver Easy Speak, which is standard on XLE and Limited. It's basically a PA system that utilizes the Bluetooth microphone in the overhead console to broadcast the driver's voice through the rear speakers. It sounds funny but it works, and Toyota thought of it first.
Of course, Toyota has built an enviable image catering to the eco-conscious buyer with their extensive hybrid offerings and the Highlander will continue to offer a hybrid powertrain as the flagship of the lineup. All Highlander Hybrids will be fully-loaded Limited models with all-wheel drive to help justify their $47,300 asking price. The special powertrain uses an electric motor to help drive the front wheels and a separate electric motor to drive the rear wheels when all-wheel traction is needed. The CVT that gets installed in place of the refined 6-speed auto is another reason that the EPA rates the Hybrid at 27 mpg in the city and 28 mpg on the highway. You'll give up some towing capacity and lay out more cash up front, but if fuel efficiency and environmental statements are your thing, then this is about your best option in this class.
Toyota is confident that this redesign renews its focus on offering families what they want in a mid-size crossover and we're here to confirm that anybody in the market for just such a people mover will want to start searching with the Highlander at the top of their list.
Photos courtesy of Toyota