2014 Mazda6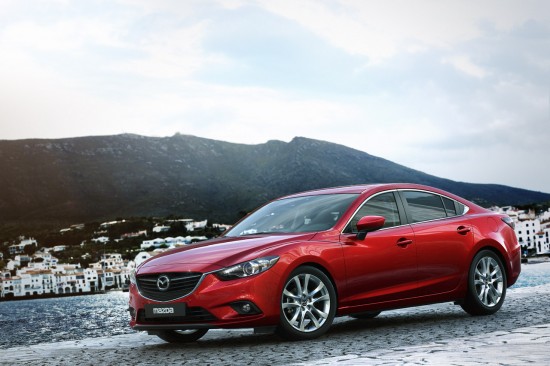 Mazda Goodness Just Keeps Getting Better
We've been fans of the Mazda6 since the start. Our Senior Editor even parted with his own hard-earned money to put a rare manual 5-door hatchback in his fleet. You'll understand our excitement then when the opportunity came to review the latest generation of the enthusiasts' favored family sedan. Unfortunately, winter weather prevented us from strapping on the camera equipment for a full video review so what follows are some brief thoughts from our week with a fully loaded Grand Touring trim ($29,695 base / $33,145 as-tested) and a plea for Mazda to send it back up when spring has sprung.
Mazda is all in on the Skyactiv philosophy of low weight and high efficiency engines and that ethos has imbued the 6 with its rewarding dynamics. A low curb weight of 3,232 pounds and a 6-speed automatic with smartly spaced gears makes the most of the 2.5-liter's 184 hp and keeps the Zoom-Zoom spirit alive. Part of the car's punchy feel can be attributed to the healthy 185 lb-ft of torque that peaks at a very accessible 3,250 rpm. Just as important these days are the EPA ratings of 28 mpg city and 40 mpg highway, which put the stylish sedan at the top of the class. Considering most compacts are struggling to reach the 40 mpg threshold, you know a comfortably trimmed midsize sedan with sporting dynamics has its act together to earn those bragging rights.
The rest of the car is just as dynamically sound thanks to fantastic brakes with a responsive pedal, electrically boosted steering with real weight and composure in the corners unlike anything else buyers would cross shop—even on winter tires. The chassis experts within Mazda continue to earn our praise and we can only imagine how good a resurrected Mazdaspeed6 would be if the suits would approve one after denying us the goods during the car's second generation.
One area where small independents like Mazda usually lag is in the technology department. However, we were surprised to find optional radar cruise control, lane departure warning system and a forward obstruction warning system; impressive tech only installed on luxury cars just a few years ago. If you start nitpicking the tight budgets can be evidenced in the terrible navigation software supplied by Garmin, as well as the simplistic non-color screen in the gauges. We do like the option Mazda has given us to control its center screen system with a simple rotary controller aft of the gear shifter or through direct touch-screen controls. They've covered both bases here with a smart move in our opinion. The 5.8" screen is too small though.
Interior materials quality is very good with soft touch plastics everywhere, smooth action from all buttons and controls and nicely trimmed heated leather seats rivaling the best among competitors. The driving position is great and the steering wheel looks and feels sporty. One of our few criticisms of the cabin comes from the door armrests that taper toward the back so that when taller drivers like your author slide their seat back to a comfortable position my elbow had precious little room left to perch. Shorter drivers appreciated the sliding center console armrest though. Mazda is known for its all-black interiors and our 6 was no exception, but we did appreciate the sporty red stitching on the armrests. The back seats are comfortable and we were surprised to find more headroom than the aggressive roofline suggested. Trunk space is down about a cubic foot from most midsize sedans but 14.8 cubic feet is not going to require too much sacrifice on family vacation. Like most modern Mazdas, a bit more noise enters the cabin due to sacrificing some sound deadening material on the altar of weight savings, but if that's going to bother you then you're probably more a Camry person anyway.
We aren't Camry people though, and we're thrilled to be continually reminded by Mazda that family functionality doesn't have to mean forgoing driving pleasure. Even in dark and dreary winter weather the latest Mazda6 shines bright.
Photos courtesy of Mazda