First Drive: 2015 Lexus NX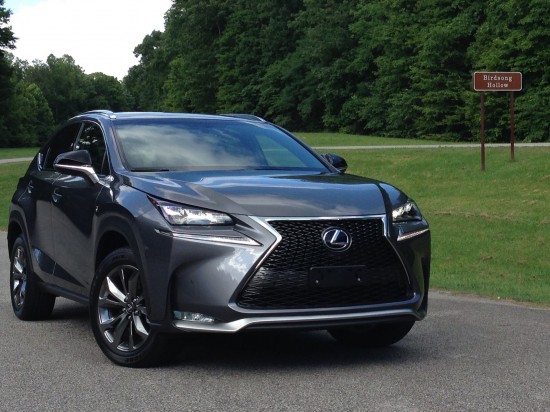 Lexus Builds a 2.0T and Wraps it in a Dynamic Crossover
Small crossovers don't get a lot of love around the Automotive Trends office. They just don't get our enthusiast blood boiling. We aren't fans of the compromises that go hand in hand with blending an otherwise rugged or useful SUV with a sedan (sporty or not). We desire something that is nimble, poised and has room for a few child car seats as needed. A compact / midsized station wagon or hatchback better fits our definition of a "sport utility". But Lexus presented us with something intriguing in Nashville, Tennessee of all places.
Why Nashville? Well, for one it's the country music capital. So right off the bat this editor had no trouble finding something fun to listen to on the local FM stations. Second, country music today is nothing like country music of 25 years ago. It's gotten a lot more dynamic and a lot more diverse, with genres within a genre; Colt Ford vs. Willie Nelson if you will.
Lexus is sort of like that. They debuted here in the U.S. 25 years ago with the stodgy yet reliable LS 400. That car was a no nonsense luxury sedan powered by a V8 driving the rear wheels. Now compare that to the Lexus lineup of today. The LS still presides over the lineup as the marque's flagship sedan, but it's far more expressive–as is the rest of the Lexus lineup, reaching a much broader audience. So for 2015, Lexus introduces us to its country rapper, the NX.
The NX is a crossover to play the part of "Premium Urban Sports Gear" and to go "Beyond Utility" with a "strongly emotional design" according to Lexus PR. Emotional design it has with its part angry, part charged up and ready to rip it across town front fascia. On the F-Sport especially, the squint headlamps, arrow LED driving lights, signature Lexus spindle grille and the seriously upright creased front corners make the NX F Sport look a little gruff and perhaps a bit Sci-fi. Non F Sport models have a slightly softer / gentler demeanor with a less aggressive front chin spoiler and horizontal chrome bars making up the major design element of the grille.
At first glance, the NX design language looks to be comprised of sawed off jagged lines. There is plenty of creased metal here, but each piece surprisingly flows into one another. As Design Editor Gernand has pointed out on numerous occasions, Japanese styling elements are meant to be viewed and appreciated individually. Step back and you can see the overall "diamond" theme of the car, but the real trick is to first get up close and examine each element on its own and how it contributes to the overall form of the master plan.
The NX is available in three basic models: NX 200t, NX 200t F Sport, or NX 300h. All models come standard with FWD, while all models can be equipped with all-weather drive (Lexus clearly holds no preconceived notion that these cars will be taken off-road with any degree of seriousness). All three models are also available in standard or Premium trim levels. And while our first impression of the NX has us feeling like this is a rather compact crossover, (it does have a loose platform connection with the Toyota RAV4, after all) Lexus was quick to point out that the NX is actually bigger in a lot of dimensions compared to the original Lexus RX 300 of 1999. Case in point: the wheelbase is 104.7" vs. 103.1" for the RX, while overall length is 182.3" vs 180.1" respectively.
Motivation for the NX 200t and NX 200t F Sport is provided by Lexus's newly developed 2.0L Turbo 4-cylinder. This little motor features a twin-scroll turbocharger developed in-house by Lexus utilizing lessons learned from the development of the LFA motor. To keep the charge air cool Lexus uses an air-to-liquid intercooler, something typically seen only on more performance-oriented machinery. The 2.0T outputs 235 hp and 258 lb-ft of torque in the NX. F Sport models don't pick up any additional horsepower, but they are blessed with a more aggressive final drive ratio of 4.117 vs the standard 3.888. Final EPA numbers haven't been released yet, but Lexus is estimating a 22/28 city/hwy rating for the FWD models and 21/28 respectively for the AWD. Fun fact: Lexus certifies a 10,000-mile service interval using a 0W-20 weight engine oil.
Photos by Jason Muxlow
The only part of this all-new powertrain that really has me puzzled is that it's been mated to an all-new 6-speed automatic transmission. Why, while Lexus is spending development dollars on a new transmission, wouldn't they go the extra mile to catch up and develop an 8- or 9-speed auto that could be shared with the RX and ES? I digress.
Moving on to the NX 300h Hybrid, we find a more familiar (for Lexus / Toyota) 2.5L Atkinson cycle 4-cylinder engine paired to a series/parallel high-voltage battery pack and generator motor and an ECVT. The engine itself is good for 154 hp while the main motor generator's max output is 141hp. Via some funny hybrid math equations Lexus engineers have determined the system is good for a total net output of 194 hp. Not that that is the important number set hybrid buyers hold onto (nor really the fact that the Nickel Metal Hydride battery pack is comprised of 204 individual cells), but rather the estimated 35 / 31 city / hwy EPA figures they are shooting for (33 / 30 respectively for the AWD). Fun fact: there is no actual mechanical linkage between the engine and the rear wheels on AWD models. Rather, the rear wheels are turned by a rear-mounted 50kW (67 hp) motor generator as needed.
However new, fresh, or unfamiliar the exterior may seem, the interior is immediately recognizable as a Lexus. The center console, steering wheel, instrument cluster and dash are all evolutionary designs based off of the IS interior. The tiered layout is more organic while the center stack is visually enhanced with the NX "diamond" geometry. The cabin is cozy. The gear shifter falls easy to hand and the steering wheel has a very pleasant thick grip. Other interior enhancements included Qi inductive wireless charging for personal electronics and a mirror equipped cover for the sunglasses hideaway in the center console. F Sport models also get a selectable g-meter in the instrument cluster and active sound control (ASC) for letting in a little extra engine noise.
The seats are very well bolstered and comfortable. Heated and cooled seats are available on all but F Sport models (heat only). F Sport model seats are actually manufactured by injecting the seat foam into the New Lux seating surfaces versus wrapping and stuffing the leather-like material over a pre-foamed seat, as is the industry standard practice today. Lexus claims they can produce seats with greater density consistency using this new method.
Addressing what has probably been the biggest complaint of Lexus interiors, the Infotainment mouse control unit has been replaced with a haptic feedback-enhanced trackpad. Yes, it's easier and more intuitive to use, utilizing familiar cell phone touch screen gestures. But it doesn't feel or respond quite as readily, and not nearly as well as my cell phone does. It also doesn't fall as neatly to hand as you would expect.
Now that the business is out of the way, I can tell you that this editor immediately gravitated to the top dog NX 200t F Sport once we were let out for our ride and drive. Further, the Lexus PR group very thoughtfully put a small portion of the scenic Natchez Trace Parkway on the drive menu. Thank you very much!
The NX is very well composed out on the road; in traffic, on the highway, or cruising down the Natchez Trace Parkway. Spirited cornering is drama free with the body maintaining a fairly flat composure thanks to the F Sport suspension enhancements. But this is still a crossover and its high riding demeanor will never replace the security one would feel from a lower slung sedan. Engine response was commendably quick thanks to our AWD model's lower final drive ratio, and it was very linear thanks to that twin-scroll turbo. In fact, that was the biggest take away I had from my experience with the NX. I really liked that 2.0T. My only gripe was the lack of noise. They have absolutely tuned out any trace of turbo whine or blow-off. Now recall my quick mention above about the ASC? Just out of sight on the instrument panel, slightly above where the driver's right knee resides is a little wheel that adjusts the dedicated speaker that lets in engine noise. The only catch: it's been augmented to sound more like a throatier V6 than a high strung turbocharged and intercooled modern 4-cylinder. Sorry, but that confirmed my suspicion that augmented really meant artificial. So that got switched off.
Driving the NX 300h Hybrid around town I largely felt the same. The NX is still very composed even in its not sport-enhanced form. The ride and handling are both a little softer, as is acceleration. But it isn't depressing. Turning the dial to Sport and applying one's foot will encourage the NX 300h to step up its pace to a brisk hurry. Amusingly, the hybrid had a bit of electro-mechanical whine to back up its futuristic sci-fi appearance. Unfortunately, my drive was entirely too short to get any sort of a feel as to how close Lexus's fuel economy estimates actually were.
Final thoughts?
First off, Lexus needs to get that 2.0T engine proliferated throughout the lineup STAT! Second, crossovers still aren't my favorite, but Lexus has a compelling case here. It effectively replaces a void created by the RX moving further up market with a vehicle that is far more compelling to a younger, active and expressive generation of buyers.
Look for the Lexus NX to go on sale this November likely starting below $40,000.
Photos courtesy of Lexus