First Drive: 2015 Lexus RC 350 and RC F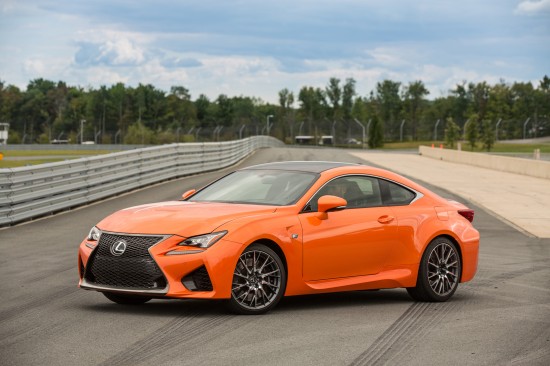 Lexus Makes a Big Entry into a Small Segment
It's been a long time since Lexus offered a sport coupe. Too long, we'd say, since we're not counting the folding hardtop luxury cruiser that the SC became in the 2000's. Lexus knows that for years it sent prospective buyers seeking a stylish two-door to the likes of Audi and BMW, and it knows their new offering will have to be special to bring them back. The confident tone of the brand's executives convinced us they're certain the RC will now have the looks and performance to win new buyers to the brand. Based on our spirited drive through New York's Hudson Valley and subsequent flogging around Monticello Motor Club's 3.6-mile road course, the wait has been worth it.
Lexus has gone on a no-holds-barred styling spree the last few years, moving the brand from boring to bombastic with no apologies in between. We haven't been sold on the look's appropriateness for luxury sedans, but with a sports coupe the look-at-me exaggerated shapes and textures of the current language work much better and attract attention like no Lexus this side of the LFA super car. Indeed, my driving partner and I defaulted into Lexus sales associates at every stop during our day with the car as curious onlookers wandered over for a closer look and details about this "awesome car". Such public interest based solely on the styling lends credibility to the company's claim that 50% of RC sales will be to first time Lexus buyers abandoning another brand.
The RC range starts with the standard 350, which offers the best incarnation of the new Lexus spindle grille thanks to a black bumper bar separating the upper texture from the lower and visually reducing the size of the opening while still remaining bold and easily identifiable. Standard 18″ wheels and stylish 19″ options help sell the coupe's sporting demeanor. The side of the car features some smart surfacing that looks great in person but is noticeaby lost in pictures. The rear of the car might be our favorite with hefty fender bulges keeping the visual weight down low and nice exhaust tips backing up the engine's performance image. For those wanting a bit more performance and 80% of the F trim's look, Lexus is offering another entrant into its successful F Sport line. The RC 350 F Sport is expected to represent fully half of RC sales thanks to its sweet spot of performance enhancements like larger wheels and brakes, adaptive suspension, Drive Mode Select and racing looks. The performance-engineered RC F sits atop the line with signature stacked exhaust tips, 19″ wheels, available carbon fiber roof and active rear wing, black finished grille and functional air intakes and outlets. Order it up in bright orange paint and prepare for quick gas station stops to stretch into 15 minute show and tell sessions.
Inside every RC it's contemporary Lexus style but we're thrilled to see the latest version of Lexus's Remote Touch interface utilizing a trackpad with haptic feedback and the ability to tap and pinch-to-zoom as you would using your laptop. It's a vast improvement over the outgoing setup. The standard seats are comfortable with a bit of bolstering to support sporting driving, but those willing to step up to the F will get beautifully finished and deeply bolstered sport seats in a variety of colors. The red leather seats look particularly upscale with maybe the most artful stitching we've ever seen in production. Aluminum pedals and some terrific adaptive gauges are highlights but, again, for those in the full F trim the gauges are even better with the central tachometer and other pertinent info changing depending on driving mode. Visibility is good in all directions and an optional 17-speaker Mark Levinson sound system will satisfy your ears on every drive.
That is, unless you're driving an RC F. Then we recommend you find Sport+ mode and kiss the 7,300 rpm redline with every shift, which will reward with such a ripping exhaust note that it could only come from a naturally aspirated V8. And what a V8 it is. A refinement of the 5.0-liter that we loved so much in the now-retired IS F, we can thank a higher compression ratio, larger throttle and revised cam for an output boost to 467 hp at 7,100 rpm and 389 lb-ft of torque between 4,800-5,600 rpm. That's more in both categories than the other naturally aspirated V8 competitor, the Audi RS 5. An improved 8-speed automatic with paddle shifters is the only transmission available and with downshifts capable in 0.2 seconds it's a willing companion on the street or track.
Photos courtesy of Lexus
More performance parts are included as standard in the RC F but highlights are the 19″ forged alloy wheels, Michelin Pilot Super Sport tires, 15″ 6-piston Brembo front brakes, Torsen rear diff or available electronic Torque Vectoring Differential. Carbon fiber can also be ordered for the roof and active rear wing, which pops up after 50 mph. All the go fast parts enable a 0 to 60 mph time of 4.4 seconds, but the F still returns 16 mph city and 25 mpg highway. Engineers used chassis components from three different donor platforms with the hardware ahead of the A-pillar coming from the GS, the middle section utilizing the reinforced structure of the IS Convertible and the rear coming from the IS sedan. The benefits are a stiff chassis and a wide track for confident cornering.
We're happy to report that when set to Sport+ the RC F can blitz Monticello's 18 corners confidently with responsive turn-in, minimal roll and no problem putting the power down out of even the tightest turns. The 8-speed automatic handled the track smartly in full auto mode with rev-matched downshifts firing off as soon as you lift off the throttle. That allowed the car to snap down a gear and take a confident set through the chicane Lexus had setup to slow us down along the long back straight. Despite the slow down we were still running 130 mph when we were hard on the Brembo brakes for the complicated right handed uphill section that immediately follows. The Michelin tires were heroes through that tight technical section that could have left us fighting the weight transfer (3,958 pounds) and sliding about, but instead we got good bite and straight, confidence-inspiring braking. No real feedback makes its way back up to the steering wheel, but that's not a surprise in 2014. The bottom line is this Lexus will lend some more credibility to the F sub-brand.
Lexus only expects to sell about 2,500 of the $62,400 RC F, but it's a nice performance halo to have sitting in the showroom and it'll probably go a long way toward selling the 15,000 RC 350s that executives are targeting. Another thing that will help is the availability of all-wheel drive for the Northeast and a reasonable starting price of $42,790 on the V6 models. The AWD system will add about 140 extra pounds, drop the highway EPA rating by two mpg to 26 and cause a protrusion into the driver's footwell that can be annoying if you have shorter legs, but that's the price of all-weather usability in this case.
It's been a long wait for a proper two-door Lexus to return to showrooms but now we have one plus the hot rod RC F as a bonus, so we'll drop any grudges. Let's just hope it's not a decade until the next F. GS, anyone?