2016 Chevrolet Silverado 1500 Z71 LTZ Crew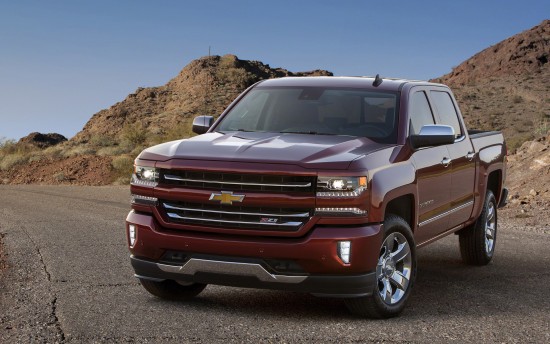 Tweaking the Silverado Recipe
The recipe to building pickups used to be an easy one. Add a powerful engine to a well-baked frame that can haul a lot of stuff while towing a trailer safely and you could reliably find some farmers or tradesmen who would keep coming back for another serving every few years. But palates have changed and increasingly the stuff pickups are tasked with hauling is passengers, which is the only way to explain why the Silverado we just sampled does a convincing job of a luxury sedan with an open trunk. How else can you explain the need for LED lights, wireless phone charging, ventilated front seats and an 8″ touch screen in a pickup? Those are some flavorful modifications to a basic recipe. Lucky for you, dear readers, your AT Editors are always hungry and willing to sample the best a company can cook up.
Despite a redesign just a few short model years ago, Chevy has reworked the front end design and it's an improvement to our eyes, especially with the LED lighting accents featured on top-trims, such as our LTZ. More than just stylish, the LED headlamps are excellent allies for anyone tasked with night driving. There's plenty of bright trim all around and our truck looked especially upscale with 20″ chrome wheels and $995 worth of Iridescent Pearl Tricoat paint. A lot of credit goes to the basic design of our crew cab short bed 1500 though, which somehow manages to sell its squared off design as modern and powerful at the same time. The 5′ 8″ box would be a bit limiting to contractors but with a standard spray-in bedliner, handy rear bumper steps and a EZ Lift and Lower tailgate, families should find it suitably capable of hauling everything from bikes to camping gear as long as it doesn't weight more than 2,130 pounds. Plus, the short box helps keep the Silverado manageable in parking lots. You can also hook up to some sizable trailers with a healthy 10,800 pound towing capacity provided you've ordered the Max Trailering Package and its beefy rear axle, springs, cooling system and trailer brake controller.
Inside, as we've hinted, our LTZ was very well equipped with leather heated and ventilated front seats, a colorful 8″ MyLink infotainment system with Apple CarPlay and, soon, Android Auto capabilities. There is a generous helping of power options throughout the cabin including USB, 110v and standard powerpoint outlets that ensure the whole family can plug-in. Even better is the option to not plug-in thanks to a wireless charging pad built into the top of the center console lid. With compatible phones just simply laying your device on the mat will top off the battery, no buttons or cables needed. Visibility is good thanks to narrow pillars and we liked the small blindspot mirror included in the corner of the driver's side mirror. For the connected family Onstar's 4G LTE hotspot functionality also works well although it's value obviously depends a lot on your current wireless carrier. Safety technologies like available lane keeping assist, forward collision alert, safety alert seat, and, of course, Onstar ensure some peace of mind. Our only issues with the interior revolve around the 2nd row where we were surprised to discover that even on our $53,580 LTZ example heated seats weren't featured and there were no adjustable HVAC vents. For how deluxe the front row is, the back bench, although spacious enough to be comfortable, is no luxury car experience. We liked the faux stitching on the dash but the plastic door handles and large center console both feel hollow and chintzy.
Success outside and in won't amount to much if the powertrain isn't up to the demanding class standards and we're happy to report the 5.3-liter Ecotec3 V8 is a great standard engine. It smoothly produces 355 hp and 383 lb-ft of torque when needed, and shuts down half its cylinders to run as a V4 when cruising. The transition is next to seamless both in feel and sound and goes a long way to actually achieving the highway rating of 21 mpg. In the city, as expected of a heavy 4×4 full-size truck, 15 mpg is all the EPA says you'll manage. The biggest news in the mechanical section of the window sticker is the 8-speed automatic transmission now standard on LTZ and High Country trims with the 5.3-liter small-block. It shuffles through the gears mostly unobtrusively and only hiccups once and a while when abruptly lifting off the accelerator. The majority of the time it keeps the engine low in the rpms and shifts smoothly, if a little slowly. Still, considering it wasn't that long ago the Silverado was handicapped by a 4-speed auto and you'll understand why we're thrilled to see a modern transmission make its way into these trucks.
We loaned our tester just in time for a nasty Michigan snowstorm and the high-riding 4×4 let us soldier on past less capable vehicles. Of course, without four-wheel drive engaged the rear end just wanted to get sideways and do a Ken Block impersonation, solidifying the need to spec four-wheel drive in snow country. Even outside of blizzards the Silverado impressed with smooth and connected steering, powerful brakes with linear modulation and a nice engine note when pressing the 5.3 hard. The ride is also very agreeable and we were impressed with the frame stiffness (something Chevy likes to tout) during an impromptu demonstration on a particularly washboarded dirt road resulted in almost no visible shaking of the pickup bed. A decade ago a glance in the side mirror would have revealed the box shaking visibly from the cab, but not these days.
No, as we were reminded with the Silverado, these days the family sedan has been replaced with the family pickup and if they're all going to be as good as this one, that's a dish we'll love.