2012 Nissan Altima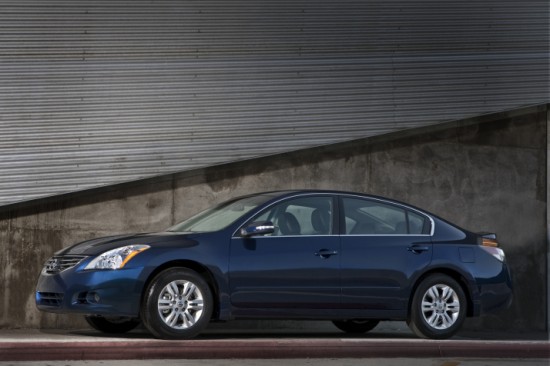 Proof That The Midsize Sedan Segment Is More Competitive Than Ever
     We're not sure why, but when we think of the midsize sedan segment our minds tend to picture the Toyota Camry or Honda Accord, or maybe even the Ford Fusion or Chevrolet Malibu. For some reason we don't immediately remember the Nissan Altima. We'd blame marketing except dealers managed to push almost 230,000 of them into American driveways last year making it the third best selling midsizer behind the Camry and Accord. Maybe we should blame ourselves. The press seems content to watch Toyota and Honda duke it out for first and occasionally devote a few words to how the domestic competition is stacking up against—you guessed it—the Camry and Accord. But Nissan has nothing to be ashamed of, as our week in an Altima 2.5 S proved.
     Part of the reason the Altima doesn't reside in the forefront of our minds is the familiar shape which is going on its sixth year. Thanks to a few subtle revisions for the 2010 model the Alitma holds its own against the not-exactly-groundbreaking designs of its competitors. With hundreds of thousands of annual sales up for grabs we don't expect anyone to get risky in this class. Beige doesn't exactly flatter the smooth curves of our Altima but the chrome grille is a handsome piece and the rear view remains a step above the rest. Nissan doesn't wimp out like some of the competition and includes handsome dual chrome exhaust tips as standard equipment. We were also happy to find 16" wheels instead of pricier 17" or even 18" rims that not only looked great but will also request less of the owner's checkbook when it comes time for new tires down the road.
     Inside it's a story of good materials and dull design that can't quite mask the Altima's true age. We tried to remind ourselves that people shopping in this class won't care if their eyes glaze over en route from Point A to Point B, but that doesn't change the fact that we'd rather be staring at a two-tone Malibu dash or even the stitched multi-tier design in the new 2012 Toyota Camry. What you do get is straightforward controls and decent storage room with great cupholders under a flip up panel. We liked the sliding center armrest and tilt and telescoping steering wheel that made dialing in a comfortable seating position no problem. The HVAC controls are the picture of simplicity and dual-zone temperature control is available in the $1,150 Convenience Plus Package, but we don't like that it comes bundled with the power moonroof. The moonroof is an unnecessary and expensive extra that we can't use half the year without creating an indoor snowstorm whereas the ability to keep the driver one temperature and the passenger at another can be crucial to keeping a happily married couple happily married. The cloth seats were especially comfortable and visibility is great in all directions. The 9-speaker Bose audio system sounds good but not great and comes in a $990 package bundling a small 4.3" LCD screen for the radio and a backup camera, which thanks to the good visibility is far from a necessity.
     The 2.5-liter I4 proved a good match to the comparably light Altima (3,192 pounds compared to the Malibu's 3,432). Its 175 hp and 180 lb-ft of torque shuffled us around with no complaints from our end as it didn't return any uncouth noises or vibrations like some large displacement four-cylinders have been known to do. The only transmission option is a CVT that does a commendable job at imitating a 6-speed automatic thanks to a manual mode that quickly changes between six preset "gear ratios". We used to loathe CVTs but there is no denying that Nissan does them best. Using this pairing the Altima 2.5 S returns 23 mpg city and 32 mpg highway. That was impressive a few years ago but now competitors are pushing into the 35 mpg highway range and Nissan will have to figure out how to do better with the Altima's impending replacement.
     Engineers have tuned the Altima to deliver a realistic mix of isolated ride comfort and controlled handling. We say realistic because with 230,000 annual sales on the line we can't expect Nissan to veer too strongly toward Z-levels of handling prowess. Still, the Altima's steering is better than the Camry's and even on tight backroads the ride never gets floaty. The brakes are commendably responsive helping boost the car's fun-to-drive factor for us enthusiast types.
     After every drive, no matter how long or short, we kept uttering different variations of, "This car is pretty good". The $27,550 Altima never stole our hearts, but to be honest we've yet to find a midsize sedan that does. But it goes about doing everything so well that we were reminded how competitive this class is. At this level there are no bad cars. Without a direct comparison test we're not going to try ranking the Altima among its peers, but if you're shopping for a family sedan you'll want to give Nissan's contender strong consideration. You can bet that we'll remember it the next time we think about the midsize sedan segment.
The Good:
Nice interior materials including details like the headliner and armrests, a CVT that we almost like, comfortable seats, priced right.
The Bad:
Interior design has passed its expiration date, no transmission options for those who might not find CVTs so charming, the competition is returning better highway mileage.
The Verdict:
The Altima is holding up well.
Photos courtesy of Nissan